The Historic Preservation Program's student work presented in this End of Year Show demonstrates the diverse intellectual interests, critical historical questions, technological experiments, policy research, and design innovations that have energized our conversations and collective learning this past academic year. The show focuses on the work produced in the three studios plus thesis that constitute the core sequence of the program.
In the studios, students engaged in real-world, hands-on projects in architectural heritage sites in New York; Venice, Italy; Freetown, Sierra Leone; and The Hague, Netherlands. In each of these sites, students applied experimental preservation methods to not only extend the physical life of these heritage sites, but more importantly to help improve the societies that use them. Taken together, the studios explored preservation as a way to help societies to remember the justices and injustices of the past, and showed a deep commitment to imagining a better future.
Such forward thinking commitment is also evident in the year-long theses that each graduating student completed. These scholarly works made original contributions to the discipline of historic preservation: they unearthed the histories of important heritage sites, such as the American missionary churches in China, which have been neglected and forgotten; developed new preservation technologies for repairing lime mortars and conserving architectural monel metals; researched how heritage policies affect cultural politics, such as changing the names of heritage sites; speculated on the future use of sound to facilitate people's attachment to heritage; and critiqued the use and abuse of heritage in geopolitics, such as in Korea's demilitarized zone.
The student's work demonstrates the Historic Preservation Program at Columbia GSAPP unique approach to the preservation of architectural heritage. The program frames preservation both as an experimental form of creative expression and as a critical form of collective action guided by philosophical, ethical and critical thinking, supported by evidence of its benefits to society, and enabled by emerging technologies and policy tools. In these studio projects and thesis books, preservation appears as an experimental practice testing the limits of what architectural heritage can do to spark society's collective memory and imagination.
Remarkably, the students produced work of extraordinary quality despite the adverse conditions of the pandemic. This exhibition is a testament to their determination and creativity. It is also a challenge to the profession and the world to reimagine what is possible and never to settle for the status quo.

Historic Preservation Studio
Studio I is the central focus of the first semester of the Historic Preservation program, and a foundational course for a three-studio sequence within the program. It is the only full-class studio in the sequence where all students gather to engage studio objectives together. It is simultaneously broad in reach and narrow in focus. Studio I both complements and benefits from other first semester coursework; it is the space for engaging overarching historical and contemporary issues of preservation, urbanism, planning, and architectural design. The goal for Studio I is to equip students with skills, techniques, and critical thinking – the means to engage practice and research⁠—in order to engender leadership, interpretation, and advocacy⁠—the ability to exercise judgment and propose informed solutions.
Students: Bruno Elias, Rachel Ericksen, Emily Rachel Kahn, Ziyu Liu, Lai Ma, Will McCallum, Caroline Peters, Thomas Rice, Tucker Simmons, Madison Story
Historic Preservation Studio
The Spring 2020 Historic Preservation Studio II focused on how preservation can serve as a tool to promote equitable resilience in the community of Red Hook, Brooklyn and involved critically exploring the following questions:


How are diverse histories, narratives, and multiple publics represented in the built environment of Red Hook?

In what ways have the community values and heritage resources of Red Hook evolved and been challenged—historically and more recently—by environmental factors (e.g. land reclamation, coastal flooding, pollution/brownfields contamination, etc.) as well as socio-economic and political factors (industrial shifts, demographic change, new development, etc.)?

How can the preservation enterprise intervene, so as to instrumentalize heritage toward equity and resilience in Red Hook?
Students: Bruno Elias, Rachel Ericksen, Katlyn Foster, Emily Kahn, Lai Ma, Will McCallum, Caroline Peters, Thomas Rice, Tucker Simmons, Madison Story
Historic Preservation Technology Studio
Fall 2019: Digital Remaking of Palazzo di Malta in Venice
This project-based Studio explores the potential for advanced applications of technology in the field of digital conservation. Students employ high resolution 3D scanning, close-range photogrammetry and cutting-edge fabrication technologies to develop an experimental digital preservation treatment for a complex building in Venice: the Prioral Palace of the Order of Malta.This course questions the potential of facsimiles to facilitate the conservation and dissemination of Palazzo di Malta and the artworks contained in it, including sculpture, painting and historic documents. The digital and physical output generated in this Studio will help to reconnect the building with its Venetian and global context.
Students: Drew Barnhart, Claire Cancilla, James Churchill, Laura Garnier, Bingyu Lin, Kathleen Maloney, Erin Murphy, Seo Jun Oh, Claire Rudin, Qian Xu
Heritage and Sustainable Urbanization: Freetown, Sierra Leone
Fall 2019 Joint Historic Preservation and Urban Planning Advanced Studio
Freetown has a complex history that is inextricably linked to both the slave trade and the struggle for African independence. The population is projected to double within the next fifteen years, and the City Council is currently seeking ways to incorporate heritage sites into its plans for rapid growth and densification. A studio of Columbia graduate students in historic preservation and urban planning, in collaboration with students from Fourah Bay College, embarked on a study of the intersection of heritage conservation and urban planning. To describe the current and potential uses of heritage in the social and physical fabric of the city and inform current efforts to improve planning governance and update heritage laws and policies, the team will present the results of their field survey and subsequent analysis. Their work sheds light on the opportunity to instrumentalize heritage as a tool in promoting civic dialogue, equity, and sustainability in the urbanization of Freetown.
Students: Mariana Avila Flynn (HP), Sreya Chakraborty (HP), Fei Deng (HP), Maya Ephrem (UP), Aline Estefam (UP), Shreya Ghoshal (HP/UP), Scott Goodwin (HP), Emily Junker (HP/UP), Sarah Sargent (HP), Micah Tichenor (HP), Savanna Wu (UP)
Adaptive Re-Modulation: Marcel Breuer's US Embassy in the Hague, Netherlands
Fall 2019 Joint Historic Preservation and Advanced Architecture Studio V
The decommissioned US Embassy in the Hague, designed 1956-59 by Marcel Breuer, is currently planned to be developed as a hotel and a new home for the museum dedicated to the Dutch artist M. C. Escher. Breuer and Escher might seem an unlikely pairing, but the coincidences between them are illuminating. Both developed techniques of iterative, recursive, and transformative plays of identity through modular geometries, of spatial re-orientations of vertical and horizontal structure, of 2-D inscribed surfaces inflecting into 3-D volumes, and both developed reciprocal formations of mass and suspension. In contradistinction to modernist glass buildings of that time, Breuer experimented with innovative concrete and masonry forms of construction, engaging iterative forms of modular geometric patterning in low and high relief. This studio explored the dynamic and iterative modulation not only of tectonic modules and structural modules, but the underlying assumptions regarding the modularity of rooms, of programs, of civic identities and urban formations.
Students: Noramon Bodhidatta, Huanlun Chen, Allison Fricke, Yanxi Fu, Shengyang He, Xueqi Hu, Sohyun Kim, Christian Pineda, Gwen Stricker, Aseel Sahab, Yu Song, Linxiaoyi Wan, You Wu, Yasong Zhou
Historic Preservation Theses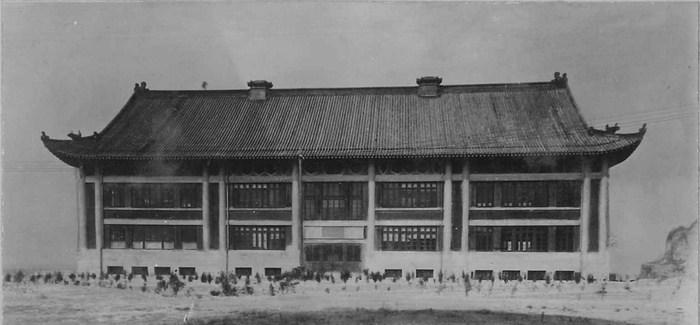 BINGYU LIN
The Buildings and Practices of Fukien Construction Bureau 1916-1949: A Study of Western Missionary Architecture in China and the Preservation of Its Contemporary Legacy
Advisor: Paul Louis Bentel
Readers: Jorge Otero-Pailos, Belmont Freeman
From 1840 to 1949, numerous remarkable buildings designed by Western missionaries in the service of religious organizations were erected in China. The architectural practice of Western missionaries substantially influenced the modernization process of architecture in China in all aspects including architectural style, material and construction technology, and the business methods associated with the practice of architecture. Their work – both in its day and in the legacy of buildings they designed and erected – provides tangible evidence of the important but often unrecognized cultural exchanges between Western and Chinese cultures. As a matter of both architectural and social history, it is regrettable that few of these buildings survive today due to political or social unrest and the rapid redevelopment of the built fabric in recent decades. Given the scarcity of this physical legacy and limited recognition of this history, it is essential that an immediate study of Western missionary architecture is conducted to reveal further its multilayered history and to promote its preservation. This thesis endeavors to uncover the underappreciated history of a particular Western colonial building enterprise, the Fukien Construction Bureau (FCB). As an instrument of the Methodist Mission in China in the first half of the 20th century, the FCB provides evidence of the role architectural design played to affirm and extend the goals of the Methodist Mission. It produced hundreds of buildings, introduced methods of design and construction technology as well as engineering principles and business practices that greatly influenced Chinese architectural system. By examining primary and secondary sources and conducting field survey and interviews, this thesis traces the work of the FCB, demonstrates its enormous output and its lasting impact on the practice of architecture in China and argues for the preservation of the few extant buildings as outward signs of this cultural legacy.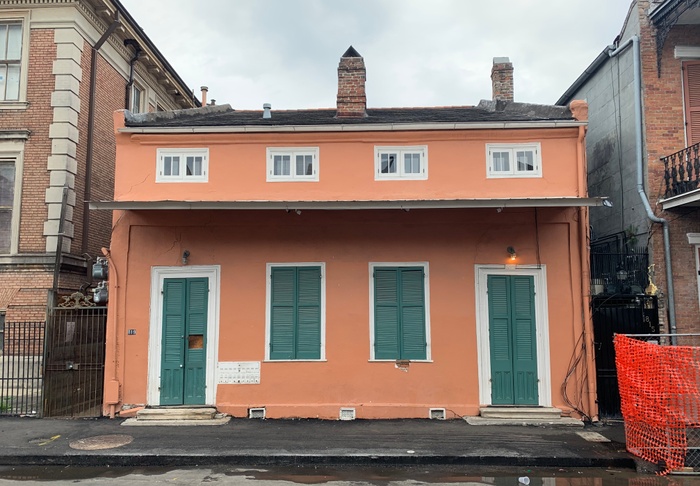 CAITLIN RUDIN GARDENHIRE
Spatializing the Stories of Free Women of Color in the Vieux Carré

Advisor: Carol Clark
Readers: Andrew Dolkart, Richard Pieper

The characterization of free women of color living in New Orleans as women who relied on their sensuality to gain a foothold in society have been perpetrated since at least the 1810s and is repeated still today, even as efforts to bring to light untold stories, particularly about women and people of color, have been gaining momentum in America's social and political consciousness. Through the identification of extant buildings in the Vieux Carré Historic District owned by free women of color between the acquisition of New Orleans as a Spanish colony until Louisiana's admission to the Confederacy, an analysis of the rights belonging to women of color in this time period across what is now the U.S., and a recommendation for physical permanent recognition of these sites, the underrepresented histories of this group who were and are intrinsic to New Orleans society will join the preservation discourse locally and on a larger scale. This thesis demonstrates a more accurate history of free women of color as integral members of the community, business proprietors, and property owners by identifying and physically recognizing vernacular buildings owned by free women of color between 1763 and 1861 in the Vieux Carré Historic District, and seeks to dismantle the misogynistic and racist myths surrounding free women of color by integrating sites they owned in the preservation narrative.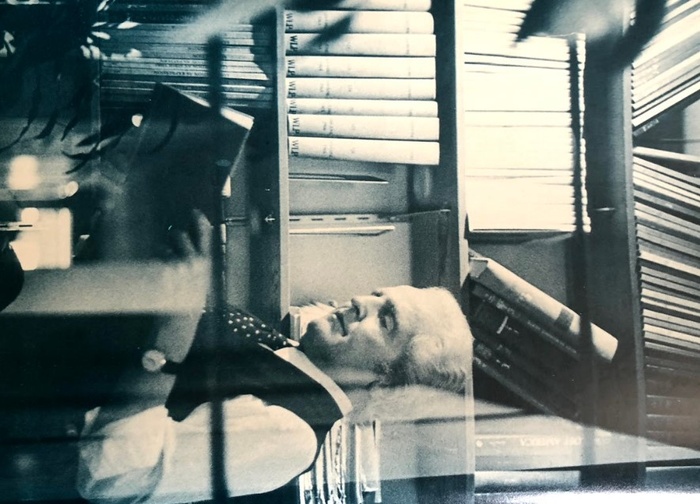 CLAIRE CANCILLA
William L. Pereira's Modern Architecture and Historic Imprint on Los Angeles
Advisor: Andrew Dolkart
Readers: Monty Freeman, Gregory Dietrich
William L. Pereira was a prolific architect and planner who lived and worked in Los Angeles from the 1930s until his death in 1985. Although Pereira played an outsized role in shaping how Los Angeles looks and how it is experienced, his work remains understudied and underappreciated. As a cause or an effect of this neglect, three Pereira projects are simultaneously facing demolition for new development: the Metropolitan Water District Headquarters (1963), the Los Angeles County Museum of Art (1965), and the Times Mirror Square extension (1973). Research on Pereira is timely because of the likely demolition of these projects, but also because the city is currently undergoing "its most transformative urban vision in a generation" through intensive growth and development. At this pivotal moment, it is necessary to reflect on and assess Los Angeles' architectural past as it moves into its future.

This thesis examines how Pereira shaped and was shaped by the city, the operating of his firm, his relationship to other corporate modern firms, his design ethos, why his work has been sidelined both historically and since his death, and the factors influencing the likely demolition of his projects. This thesis argues that blanket perceptions of Pereira's work as ugly or irrelevant ignores the significance of Pereira's work both in its own right and as reflections of the broader history of postwar Southern California's urban development. While these demolitions of Pereira's work would represent devastating losses of his legacy in Los Angeles, the losses can also be used to galvanize action to protect future Pereira buildings and to encourage additional attention to Pereira's buildings, study of Pereira's work, and appreciation of his impact on Los Angeles' built environment.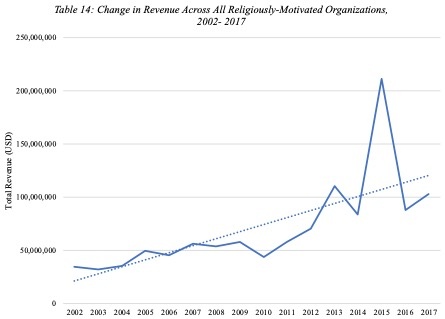 DREW BARNHART
American Nonprofits and the Funding of Preservation Abroad
Advisor: Will Raynolds
Readers: Erica Avrami, Daniel Reid
US-based entities are a major source of funding for preservation internationally, with American organizations contributing tens of millions of dollars to the conservation of foreign heritage every year. Critiques of this phenomena tend to focus on public actors, addressing the ways in which governmental entities use preservation funding to achieve foreign policy objectives. This thesis expands on existing critiques by exploring the diverse landscape of private actors that facilitate the flow of both private and public funds to heritage abroad with the goal of understanding the factors that shape their priorities and agendas.

To achieve this goal, this thesis examines a sample of fifty-two American nonprofits that engage with preservation abroad. Drawing from a review of these entities' public-facing documents, as well as interviews with representatives from eight organizations, this thesis proposes a typology of three categories of nonprofits that operate in this arena: fundraising-oriented, or "friends-of," organizations, which serve largely to support European heritage; project-implementers, which often employ preservation as a tool for capacity-building; and organizations motivated by religious agendas, the largest of which send funds to Israel. Pulling data from these organizations' tax forms, this thesis also offers an analysis of income sources, the amount of money sent abroad for preservation, and changes in revenue over time across each category of organization. Ultimately, it concludes that there is a gradation in terms of the control each nonprofit has in setting its own agenda and that diverse actors, including foreign organizations, individual donors, US governmental agencies, foreign governments, and local communities shape how funding is used.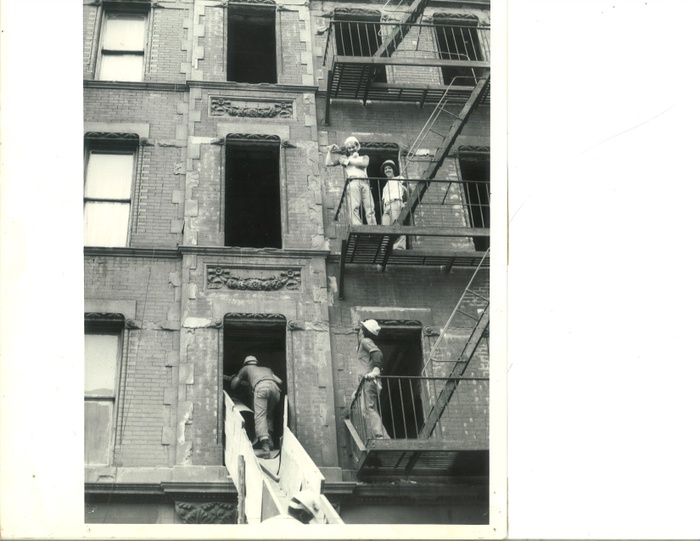 EMILY JUNKER
Preservation Through The Self-Help Housing Movement

Advisors: Carol Clark and Ryan Devlin Reader: Amy Starecheski

Older, multi-family, residential buildings were threatened by abandonment, landlord neglect, demolition, and fire in New York City's most distressed neighborhoods before, during, and following the 1975 fiscal crisis. However, several of these resources survived this period through the value that tenants, communities and housing advocates saw in them. In this thesis, I sought to answer these questions: What role did tenants have in the preservation of distressed buildings? How did city agencies and housing advocates enable and help them? How did these actors perceive the preservation of distressed residential buildings through self-help programs? To what extent have the physical characteristics of the buildings been preserved? How have these actions preserved other aspects such as affordability, community, and continuity of residents? What lessons can be learned from New York City's history of self-help housing?

The thesis is organized into three parts. Part I provides background information about housing issues in the city during this period, the tenant movement, and rehabilitation and low-income tenant ownership policies. Part II presents a narrative of self-help housing experiences—from squatting, sweat equity, and urban homesteading—in Morningside Heights and Manhattan Valley neighborhoods that are connected through key actors and organizations. In Part III, I asses my research findings regarding physical, community, and affordable housing preservation.

I argue that tenants in New York City preserved physical built characteristics of their residences and neighborhoods. Their collective actions brought and held together communities. They generated affordable housing for themselves and others. These occurrences may not have been possible without the support of advocacy groups and government bodies who provided support, financing, and formality. Most buildings discussed are still standing and attractive neighborhood resources. Yet, not all have been able to preserve their social integrity—the collaborative spirit that saved them and affordability to the lower-income residents they served.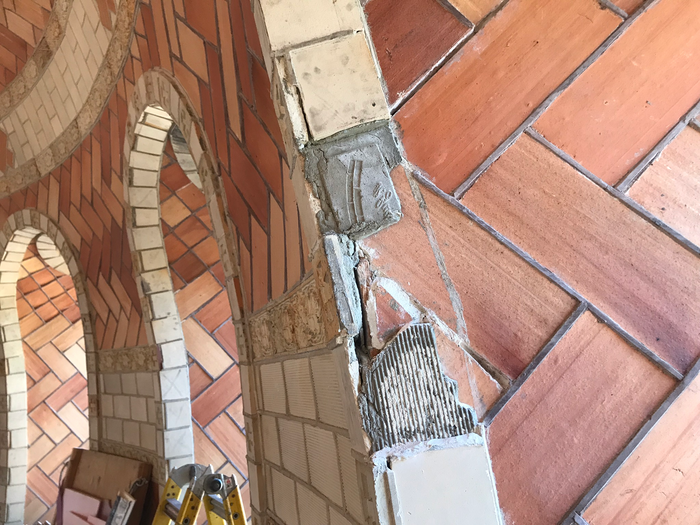 ERIN MURPHY
[De]Constructing Guastavino Vaulting

Advisor: Tim Michiels
Readers: Derek Trelstad, John Walsh

Literature regarding Guastavino vault assembly indicates that mortar used to build these structures was uniformly a combination of gypsum and portland cement. Limited research questions the use and placement of these mortars. Preservation professionals often identify discrepancies between this literature and the material composition of individual structures during restoration, however these findings are rarely published. This thesis performed a material study at St. Paul's Chapel, identifying the use of at least four different types of mortars, including gypsum mortar, gypsum-lime mortar, natural cement mortar, and portland cement mortar. Methods of analysis included archival review, physical observation, and cursory petrographic analysis of select samples. It was concluded that mortar use and placement varied by assembly type. Supporting case studies identified additional mortars, other than gypsum mortar or portland cement mortar, which also varied by assembly type. This study covered less than 1 percent of the approximately one-thousand projects constructed by the Rafael Guastavino Company, but the findings indicate that a wide array of methods and assemblies appear. The study of St. Paul's Chapel and the other supporting case studies demonstrate that the Guastavino Company's methods of construction varied in response to specific project parameters.

FEI DENG
"The Power of Storytelling": Case Studies on how the Community of Manhattan's Chinatown Consciously Preserved the Chinese American Women's History

Advisor: Andrew Dolkart
Readers: Barry McCarron, Chengzhi Wang

The goal of this research is to figure out how spontaneous storytelling could contribute to the preservation of existing women's history of ethnic enclaves like Manhattan's Chinatown. Starting from the key questions put forward at the beginning of the thesis, the two cases in Chapter Three mainly focus on the following questions: Who are the initial narrators and how did they consciously preserve the historic legacy of women's history by storytelling? When the narrators and methods of storytelling changed, can the activities of preservation still continue based on the existing storytelling? How did the gendered spaces are narrated in their storytelling?

From both the case of Mabel Lee and the women garment laborers' protest of 1982, one common characteristic of the storytelling is the conscious mention of the space-related memories, which shows as a historic "scene" to recall the memories shared among different generations of the community. By describing the activities that happened historically in the spaces, the storytelling re-discovered the value of the inundated places, which are always lacking conservation and historic interpretation. In this way, the spontaneous storytelling could be valuable, bottom-to-up way of preserving the local community's underrepresented group's historic legacy, because it could function as a storage of historic information before the story's value was re-discovered by the public cultural organizations, and after the story's historic value was re-discovered, it could build the language of its historic value based on the community's emotional, in-situ memory of the space. Thus, by consciously collecting and preserving the trace of storytelling before the unrepresented women's history was recognized and related landmarks was officially designated, and digging the space-related storytelling after the women's history was publicly narrated, the spaces with submerged history could get better preservation with the community's understanding and support.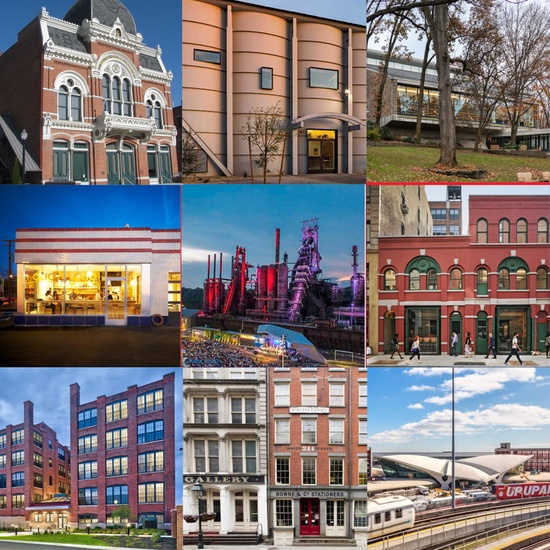 ALLISON FRICKE
Beyond Aesthetics: Evaluating Social Outcome of Adaptive Reuse

Advisor: Erica Avrami
Readers: Mabel Wilson, Richard Plunz, Richard Southwick

The fields of historic preservation and architecture claim varying social benefits of their work, but the assertions rest on limited scholarly research. Social outcomes are particularly important in the historic built environment because social intention is embedded in the designation of historic buildings. Design in historic built environments (such as adaptive reuse), therefore, is a critical common ground of architecture and preservation practice. The research aims to inform architectural practice in relationship to the historic built environment and social outcomes. The methodology targets current architectural practice in the historic built environment through a critical review of literature—with particular emphasis on literature on post-occupancy evaluation—and interviews with architects, which served to gain insight into practice.

The findings elucidate paradigms and draw out deficiencies in architectural practice concerning social outcomes in relation to the historic built environment. The research finds that architects do have agency in setting preservation intentions. However, differing perceptions of what constitutes social benefit, limited metrics of social benefit offered in the literature, and barriers to post-occupancy evaluation in practice hinder architect involvement in assessing social benefits of adaptive reuse. Recommendations strive to incorporate findings into architectural practice, including capitalizing on existing opportunities for expanding post-occupancy evaluation.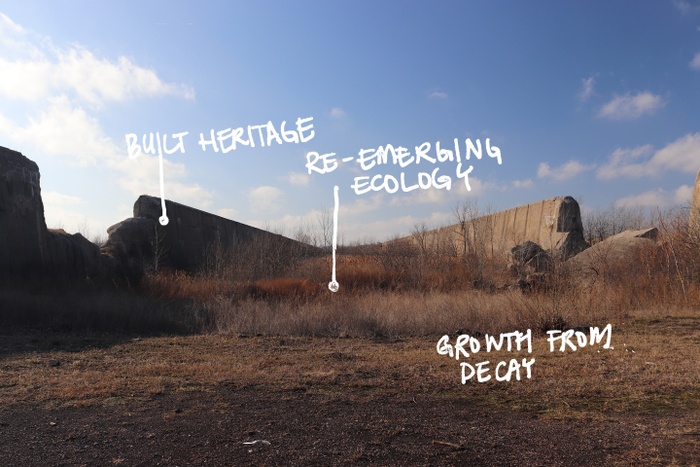 GWEN STRICKER
Industrial Decay: Environmental Value at Industrial Heritage Sites

Advisor: Bilge Kose
Readers: Francoise Bollack, Bryony Roberts, Miriam Kelly

Industrial heritage comes with a complex system of values, embodying historical, social, aesthetic, and economic narratives. Representative of a once booming economy, abandoned industrial sites now exemplify the negative consequences of material exploitation, environmental pollution, and deindustrialization. In recognizing these places as heritage, little attention is given to the significant mark made on urban and natural landscapes and environments.

This thesis argues that industrial heritage sites should be assessed for environmental value as an opportunity to recognize the environment as an interdependence between nature and culture. Ascribing environmental value at these sites involves not only an acknowledgement of the toxic environmental systems that emerged as part of industrial processes but also an analysis of the sites' natural decay and growth. This argument will be explored through Chicago's abandoned industrial heritage sites that are in a state of decay, specifically the Acme Coke Plant and U.S. Steel's South Works. The history of Chicago's growth was dominated by industry, specifically the steel industry, but the most influential and historically significant industrial sites are in a state of decay and are largely excluded from heritage recognition in the city.

Approaching the subject of industrial heritage through the assessment of environmental value acknowledges the fact that industrial heritage sites and the ecologies they disrupted have now become physically intertwined, an approach that considers decay as a defining characteristic of industrial heritage sites. Advocating for the natural environment captures a difficult history, but in doing so promotes a positive outcome for environmental health in the preservation process. This thesis explores nature's agency to reuse abandoned industrial sites and the possibility to accommodate natural decay to represent the complicated relationship between industrial culture and the natural environment in the urban landscape.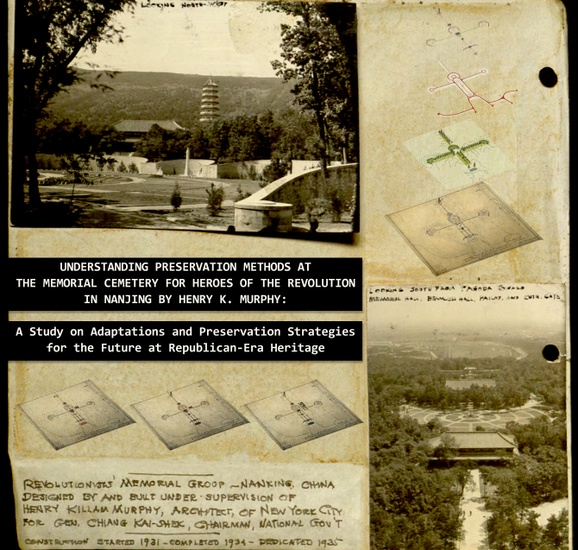 HUANLUN CHENG
Understanding Preservation Methods at the Memorial Cemetery For Heroes Of The Revolution In Nanjing By Henry K. Murphy: A Study on Adaptations and Preservation Strategies for the Future at Republican-Era Heritage

Advisor: Kate Reggev
Readers: Francoise Bollack, Amy Lelyveld

Nanjing was the political and cultural capital in the early twentieth century (1912, 1927-1949) for the Republic of China during the period now known as the Republican era. The need to reimagine historic sites arose as a common issue and architects from other parts of the world introduced modern architectural methods eventually contributed to the process of shaping Chinese architecture in modern times. However, not all of the legacies in the Republican era that had glorious pasts and far-reaching influences are currently well understood, perceived, or preserved.

The thesis starts from analyzing the National Memorial Cemetery for Heroes of the Revolution (1929-1932) in Nanjing, one of Henry K. Murphy's most successful and final projects that reflects his adaptive method for working with existing historic buildings in its advanced form. The cemetery complex is comprised of six significant architectural nodes locating on a central axis, and a well-rounded master plan for other essential aspects including landscape and transportation. Multiple preservation strategies were applied in the design to adapt existing structures on site that belonged to the ancient Linggu Temple. The Memorial Cemetery was significant not only for its architectural values but also for its multi-layered identity as a public memorial commissioned by the political leader Jiang Jieshi for the martyrs sacrificed in three wars.

Through the lens of preservation, this thesis seeks to fill in the gap in understanding Republican heritage. The idea of "strategy" is introduced as a collective set of preservation methods and actions since these buildings require a framework that considers both the original preservation strategy that Murphy employed and rational visions for the future. These preservation strategies were specifically developed to deal with typical situations for the Republican heritage, leading to the creation of a new evaluation tool that helps determine future preservation strategies as the final part.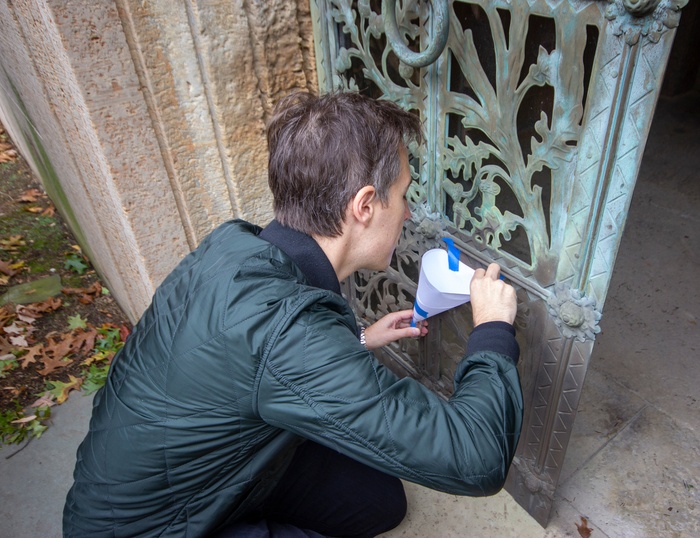 JAMES E. CHURCHILL
Decorative Monel: Historical Aesthetic Intent, Weathering and Analysis

Advisor: Norman Weiss
Readers: Richard Pieper, Scott Kreilick

Monel is an enigma. Poorly understood and grossly under-researched, the alloy has largely been ignored despite its importance in the first half of the twentieth century in the history of metallurgy and the moderne style. In exterior environments Monel's weathered appearance is commonly misidentified as Bronze, while in interior contexts, it is regularly assumed as nickel silver. The break-up of the International Nickel Company has scattered historical and technical data, leading to an information vacuum that sees historic Monel painted, waxed, or lacquered, with no grasp of the potential impact on it. This thesis investigates the original aesthetic from both the company and client perspective, including a review of the documentation of renowned fabricator Samuel Yellin and designer Parke Edwards, in order to contribute to professional conservation practice. Focusing on exterior decorative Monel, inorganic and organic testing was carried out at three case study sites to identify weathering compounds and historic applied coatings through both quantitative and qualitative methods of X-ray fluorescence and diffraction, gas-chromatography mass-spectrometry and Raman spectroscopy. Scientific data is supplemented with both primary and secondary historic documentation to argue a need for a new method of conservation. Monel does corrode, albeit slowly, despite the well-held and even better sold belief to the contrary. The common practice of leaving unstable and non-uniform weathering on the surface for age-value and so-called patina appreciation should be reconsidered. Addressing the dearth of information, this thesis suggests potential restoration and maintenance approaches for professionals and the wider community aiming to extend the future of this rare and underappreciated "white metal."

KATHLEEN MALONEY LO
Documentation of Built Heritage and Disaster Preparedness Plans

Advisor: Theo Prudon
Readers: Erica Avrami, Bilge Kose

As flood-prone communities seek to adapt and protect heritage resources from the impact of changing weather systems and water damage, there is a greater need for alternative and affordable solutions to safeguard historic resources. Many cities are updating preservation plans to better incorporate heritage but there remains an alarming lack of representation for historic resources in hazard mitigation plans. This can lead to a lack of sufficient documentation, necessary for supporting recovery efforts. Documentation serves as a record, memory, and as a reference in the adaptation process for prioritizing elements of high significance. For buildings that are listed locally or on the National Register, reference to this documentation can mean the difference between retaining enough integrity to retain their status on the list or to be removed. Incentivizing and sourcing funding for documentation in advance of a climate event remains a crucial component of this narrative, influencing the role of documentation in preparedness planning and recovery efforts. This thesis examines the role of documentation in preparedness planning on a global scale, from the founding of UNESCO, and its adoption into US-based preparedness efforts, at the federal, state, and local levels focusing specifically on water-related threats. Two US case studies have been evaluated to illustrate the application of different methodologies, technology employed, community involvement, and the driving factors for initiating a preventive (or proactive) documentation project to encourage broad-scale application of these techniques.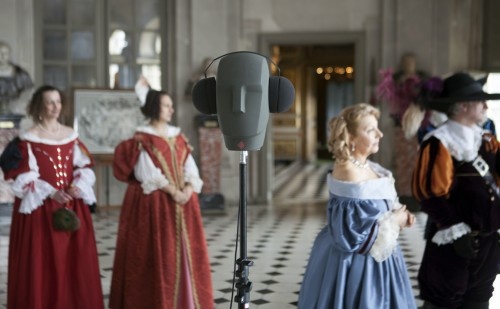 LAURA OPHÉLIE CHARLOTTE GARNIER
Rebuilding sounds at historic sites: recreating the history of a place.
Respecting authenticity, promoting education

Advisor: Jorge Otero Pailos

Readers: Jessica Williams, Will Raynolds

When considering historical sites as guardians of memory, it is necessary to transmit the information kept by these places to the largest audience possible. As the first principle of the Icomos Charter for the Interpretation and Presentation of Cultural Heritage Sites express, practitioners should "facilitate understanding and appreciation of cultural heritage sites and foster public awareness and engagement in the need for their protection and conservation." With this educational goal in mind, it is necessary to consider the historical places, already proposing this kind of initiative.

In the United States, "45% of museums are historic sites, historical societies or historic preservation organizations." These organizations engage their audiences and interpret their sites in unique ways. In order to go deeper on a theoretical reflection, the topic of this thesis will focus more specifically on the use of sound and audio experience for sensory immersive development in historical sites.

The audio experiences are used in different ways in historical sites, and the objective of this thesis is to question these different methods. "Many exhibits focus on the materiality of a single object and help visitors connect with the sensory properties of historic artifacts, their context, and the stories behind them. Other museums, with the use of technology, create immersive learning experiences that have no artifacts at all", and it is precisely what Cultural Heritage sites are doing, proposing experiences to enhance their building, rather than only their content, to express their significance. However, the use of technologies also brings up questions of authenticity at historic sites. As technologies are used more and more, even in historical sites, it seems necessary to question the process of creation and implementation of these tools as well as identify impacts of these technologies.

The use of senses, especially through technologies, can help to enhance the interpretation of a place. Recently, museums in historical sites are proposing new immersive experiences to visitors that utilize multisensory technologies, frequently sound. But with the potential of these technologies come challenges, and it is important to examine how sound is being used, the strengths and weaknesses of its use, its impact, its goal, and its results.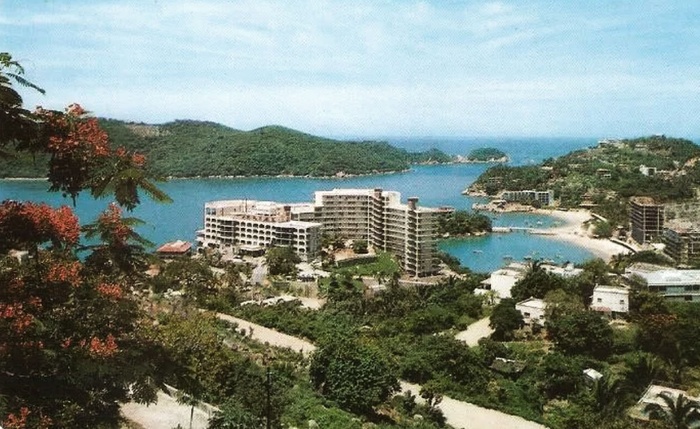 MARIANA ÁVILA FLYNN
Recapturing the Ideals of a Former Paradise: Preservation Approaches for Modern Acapulco

Advisor: Mark Rakatansky
Readers: Jorge Otero-Pailos, Theodore Prudon

The popularity of Acapulco as one of the most glamorous destinations of the mid-twentieth century has remained prominent in the imagination of Mexican and international communities partly because its construction relied on displaying stunning tropical landscapes that merged with the development of modern facilities. As time went by, these elements became part of a worldwide publicity and artistic strategy promoted by the government, and primarily materialized by modern Mexican architects, giving Acapulco its global fame that proliferated between the 1940s and the 1970s. In that context, this thesis argues that Acapulco resulted as a unique Mexican seaboard city that showcased a notable influence of the modern architectural movement instituted worldwide, but also a modern tropical idiom that became relevant in the tropics after World War II. To demonstrate the argument, the analysis of "Los Cocos" Condominium and "Condesa el Mar" Hotel designed by Mario Pani will act as two case studies that exemplify the institution of the modern tropical approach for Acapulco.

Mario Pani is well-known because of his significant participation in the construction and modernization of Mexico City, mostly during Miguel Aleman's presidency between 1946 and 1952. This participation was echoed in Acapulco as a collection of projects that demonstrated the establishment of a modern idiom as part of Acapulco's development. However, his involvement as an influential character in Acapulco's construction has been overlooked by present scholarship, leading to the demolition or transforming his legacy and the loss of the original character-defining features found in former tropical modernism. In addition to providing a new academic perspective toward Pani's work in Acapulco, this thesis will place the analysis of his structures within the current framework for preservation in Acapulco to provide alternatives for a contemporary understanding of Acapulco's modern heritage. Finally, the study will support the claim that it is possible to apply the ideals instituted as a part of modern Acapulco for preservation strategies, such as renovations or adaptive reuse projects.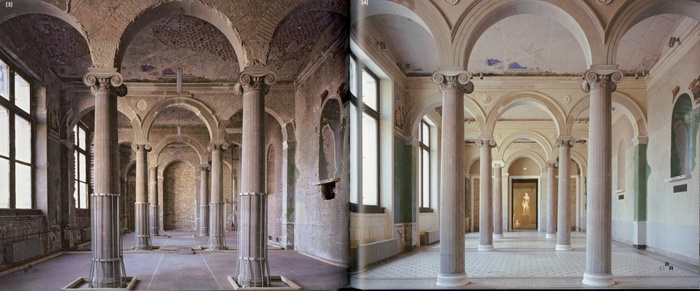 MICAH TICHENOR
Ruin Recovery: Emergence of a Preservation Aesthetic Through Museum Architecture in the 21st Century

Advisor: Francoise A. Bollack
Readers: Will Raynolds, Jorge Otero-Pailos

At the end of the end of the 20th century, the trend of architecturally iconic museums and cultural centers to attract tourism, commonly referred to as the "Bilbao effect," was beginning to show signs of fatigue. Simultaneously, a ruined building was increasingly perceived as an opportunity for rehabilitation, primarily in Europe, influenced by the rise of Postmodernism and criticisms of post-war reconstructions. Over several decades, this perception developed into a new preservation aesthetic, which I refer to as "ruin recovery". Currently, there is no comprehensive study or documentation on the physical expression of history that is seen in ruins which have been visibly incorporated into a new work of architecture. This thesis examines the emergence of ruin recovery as a preservation strategy, and its impact, through case studies. After establishing a list of architecture projects, spanning 1957-2019, that incorporate and visibly display a ruin, three were selected as case studies to highlight this turning point in the field of preservation: the Mill City Museum (1997-2003) in Minneapolis, Minnesota; the Kolumba Museum (1997-2007) in Cologne, Germany; and the Neues Museum (1997-2009) in Berlin, Germany. These museums demonstrate a shift in the early 21st century to urban cultural projects that are interested in communicating identity through the specificity and history of place, and not through the vision of an architect. Preservation provides the tools to achieve this sense of identity, visibly displaying a building's past, and by extension, the values of the city. The three projects are analyzed through a variety of publication sources that reveal a conversation about ruin recovery that is celebratory, contrary, and often uncertain in how to define the approach and its potential. This analysis calls attention to the trajectory of a new preservation aesthetic that embraces damage and decay as a trace of a building's history, reflecting the capacity of buildings to evolve over time.
ANNIE NORAMON BODHIDATTA
Preserving the Sacred: Abandoned Buddhist Temples in Bangkok, Thailand

Advisor: Paul Bentel
Readers: Erica Avrami, Chris Neville

Many temples across Thailand have been facing the issue of abandonment. By definition, an abandoned temple is a religious (Buddhist) building/structure that no longer functions as an official place of worship; in other words, a temple that no longer has any monks in residence to govern and maintain the precinct. These range from temples that are in ruins to the ones that still are in perfectly good conditions with a Buddha inside. Abandoned temples are usually smaller temples that have been left behind as the monks decided to move somewhere else, or in many other cases have been combined into a larger temple complex close by. Some have been destroyed by disasters or wars, leaving behind only mounds of ruin, while for some, only the name and memories of those temples remain and are carried on through the generations.

Most people might imagine abandoned temples as ruins of brick wall or pagodas such as those found in ancient cities in many provinces across Thailand. However, they may not realize that there are still abandoned temples scattering around the capital city of Bangkok. Buried deep inside various neighborhood communities, these abandoned temples are mostly only known by people of the local community and are often unheard of and inaccessible to other people outside of the neighborhood.

According to recent research, 22 abandoned temples have been identified within the area of Bangkok. Most of them are located around the outer area of the old city center. The fact that there are a number of temples located close to each other (causing some to be abandoned) indicates that there were once dense and active communities surrounding these temples. As the physical and social contexts around them change, these religious Buddhist structures become underused and no longer retain their past dynamics with the communities. Today, abandoned temples are still an important part of the physical urban fabric, but they have become neglected and overlooked by the local communities and by Thai people at large.

This thesis will identify through on ground research, interviews, and reading of secondary resources, to compile a template of conditions to be used in identifying these circumstances of abandonment. Potential strategies for their positive use in the future will be identified as a guideline for implementation.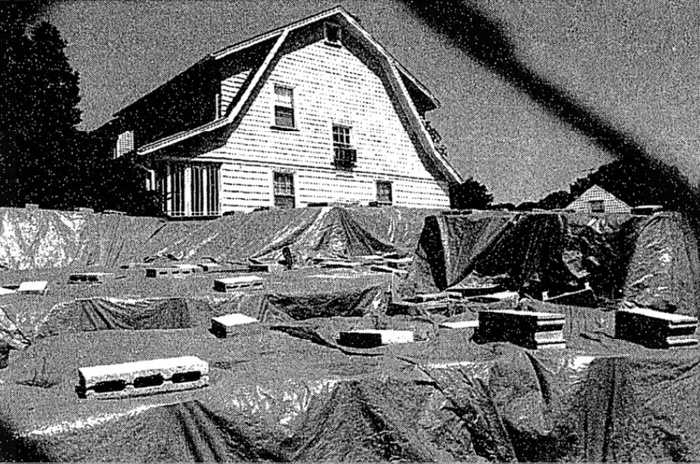 SARAH SARGENT
Unearthing the Radioactive Junkyard: Interpreting and Preserving America's Forgotten Nuclear History

Advisor: Will Rayolds
Readers: Richard Piper, Jessica Williams

Radiologically contaminated sites differ from other heritage places in that the inherent permanence of their materiality creates an imperative for their preservation on a massive timescale. This is cultural heritage at its most crucial, for if our society forgets about the dangers that radioactivity poses - if the message Do not dig here does not translate across centuries - then beings generations ahead of our own will be put at risk. Efforts have been made to mark radioactive waste disposal sites for millennia, but conveying risk that far into the future is a nearly impossible task. Furthermore, environmental remediation of radiologically contaminated historic sites is a destructive as well as healing force. Oftentimes even the most significant historic buildings at these places have been demolished due to the major human health threats posed by their radioactive contamination. How can preservationists engage in the highly conflicted realm between remediation, destruction and the preservation of significant structures? How can these places be commemorated in such a way that this history is not forgotten? In this work I will explore a series of three case studies that illustrate how radiologically contaminated historic environments have been treated during the EPA Superfund cleanup process. I will examine the regulatory and policy processes (including Section 106 review) that have led to these preservation outcomes. Finally, I will analyze existing models of interpretation at similar sites with an eye towards the lessons learned that could be applied to these unique preservation challenges. This thesis will seek to answer the above questions, and to provide recommendations for the preservation treatment and interpretation of radiologically contaminated heritage places.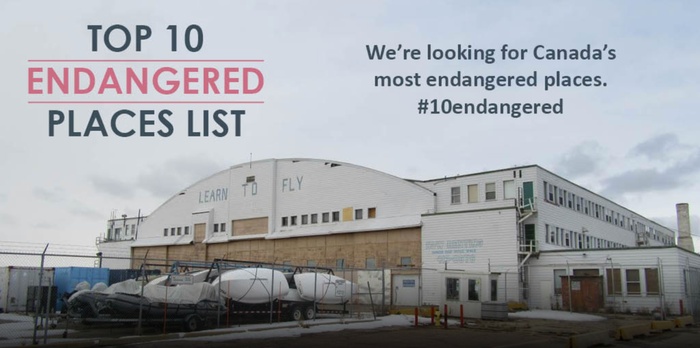 SCOTT GOODWIN
"Red Listing" Heritage: Endangerment as Policy and Collective Action

Advisor: Erica Avrami
Readers: Chris Neville, Will Raynolds

Scholarship is increasingly critical of endangerment as a sensibility and a discursive device that shapes cultural heritage and its preservation. But recent academic calls for abandoning endangerment- and loss-oriented heritage practice have tended to overlook the complex ways that endangerment functions as a tool, and one that is used by institutions and publics alike. Endangerment listing programs for heritage have emerged over the past half-century as a distinct policy tool and one of the key ways that categories of endangerment are defined and reproduced. By moving beyond analyses of these programs as rhetoric or discourse, and by reframing recent discussions of "heritage at risk" in terms of policy and collective action, so-called heritage "red lists" become recognizable as mechanisms through which institutions and multiple publics dynamically construct endangerment to achieve varied outcomes in practice. Using red list programs as case studies, this paper explores the ways that contemporary list facilitators and list users negotiate and mobilize endangerment, and to what particular ends. It argues that endangerment as heritage policy functions not only as a tool of institutions, experts, and heritage professionals, but also as a means through which communities define and redefine notions of themselves. Despite a growing suspicion of endangerment within critical heritage discourse, this research suggests how endangerment might serve productive roles in policy and practice.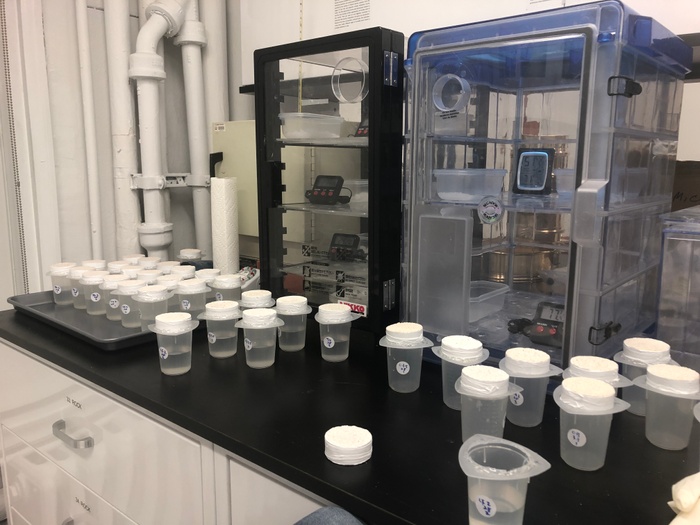 SEO JUN OH
Comparative Laboratory Evaluation of Natural Hydraulic Lime Mortars for Conservation

Advisor: Norman Weiss
Readers: Jennifer Schork, John J. Walsh

Over the past two decades, natural hydraulic lime (NHL) has become a popular binder in restoration mortars used for the conservation of historic masonry buildings in North America. The most obvious advantage of the NHL is a more rapid setting as compared with non-hydraulic hydrated lime (and lime putty) mortars. At the same time, NHL mortars are said to have the favorable attributes of most lime-based formulations, for example, low-to-medium 28-day strength, and relatively high-water vapor transmissivity (WVT).

The longer-term performance of NHL mortars, however, is difficult to predict, as they are produced from impure limestone quarried at various geographical locations in Western Europe. As the mineralogy of the source rock varies, so does the chemistry of the individual hydraulic limes manufacture. Moreover, the scarcity of manufacturers' data and of independent laboratory-based literature on NHL mortars is a very significant issue. The concept of pointing mortar as a building component that is sacrificial and "compatible" –as often discussed for NHLs as for other lime mortars–is difficult to translate into conservation practice in the absence of scientific data. Of course, mortar testing data is only one aspect of those issues, as the behavior of the masonry units would need to be studied on a building-by-building basis, and in a detailed way. The goal of this research is the examination and comparative evaluation of some fundamental properties of NHL mortars. Eleven NHL binders from four different manufacturers were selected, all of them available in the North American market. More than 200 specimens were prepared with a volumetric (1: 2.25) binder-to-sand ratio, based on a common mix design for restoration mortars used in the field. For comparison purposes, Type-O mortars were prepared under the same condition. Experimental programs were created to study three crucial parameters: compressive strength, water vapor transmission, and water absorption by capillary uptake.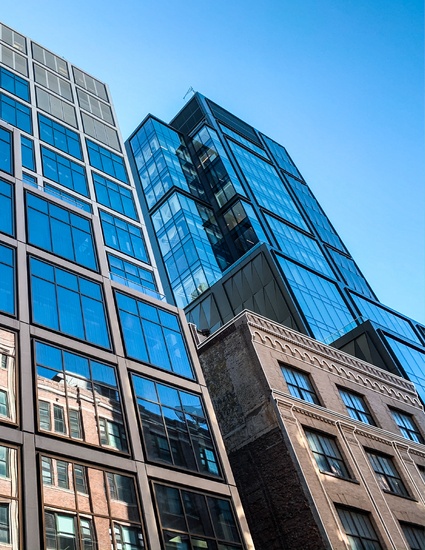 SHREYA GHOSHAL
Urban Juxtaposition: Balancing Heritage and Development through Transfer of Development Rights in New York City Special Districts

Advisor: Erica Avrami
Readers: Weiping Wu, Douglas Woodward

As a policy tool functioning at the nexus between planning and preservation, Transfer of Development Rights (TDR) was created to alleviate some of the pressure placed on historic structures by market forces. Though not uncontested, planners, preservationists, and developers all believe the use of TDR in Special Districts to be successful for its ability to direct new development across a neighborhood while protecting architecturally and culturally significant resources. But does this determination hold up to contemporary standards for equitable and sustainable development principles? A critical analysis of the history of planning policy exposes inherent biases that stand counter to contemporary planning goals; a similar investigation of the history of preservation policy reveals a prioritization of aesthetic concerns over wider social goals. Despite the layers of protection built into each Special District policy, and clear intentions to continue their use throughout NYC, they have never undergone a deeper level of analysis beyond economic valuation studies. This thesis bridges multiple disciplines by investigating the intent versus outcomes of TDR in Special Districts through a set of new metrics, employing an evaluative framework based on current planning and preservation discourse. This research consequently suggests that TDR does indeed reconcile preservation and planning aims in a single mechanism but has resulted in lasting socio-spatial consequences that were not anticipated as part of the original policy rationale. Special Districts prioritize real estate and economic development and aesthetic considerations over social inclusion and environmental concerns. Ultimately, the evaluation of two New York City case studies, the Theater Subdistrict and the Special West Chelsea District, informs a series of key findings and policy recommendations.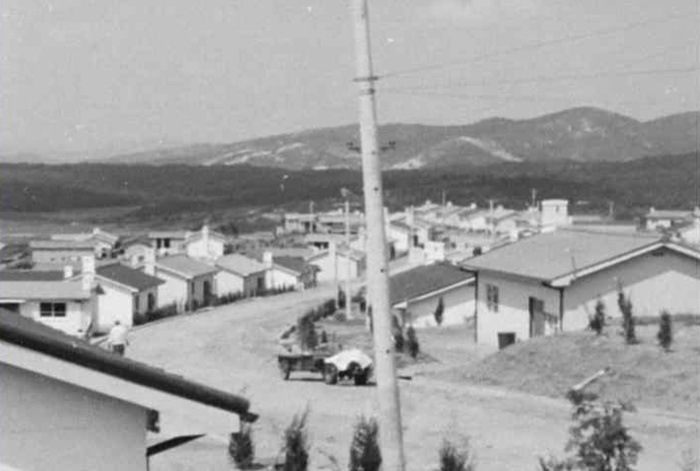 SOHYUN KIM
From Brand Village To Living Heritage: Tong-il-chon in the Area of Korean Demilitarized Zone

Advisor: Jorge Otero-Pailos
Readers: Carolina Castellanos, Mark Rakatansky

This thesis argues that Tong-il-chon should be revalorized into living heritage than a typical brand village, by providing in-depth analyses to evidence Tong-il-chon's historical status of significance. It also seeks to make suggestions for an integrity-conscious preservation approach that would help Tong-il-chon turn into compelling heritage with a clear historical identity of the inter-border area of Korean Peninsula. Tong-il-chon, a strategic civilian village built in the area of Korean Demilitarized Zone by the South Korean government in 1973, stands as an important evidence of the long history of the two Koreas' discourses and diplomacy about reunification. However, recent initiatives taken into Tong-il-chon and its surroundings – for example, the Tong-il-chon Brand Village Development Project that overlooked preservation of the village's physical setting and the Camp Greaves History Theme Park Project that is considering a direct connection to the village – raise a question about conflicts with the deserving value and status of Tong-il-chon. In response to this question, this thesis will begin with a two-pronged analysis to establish Tong-il-chon's values: first, a design analysis based on architectural documentation of the village to assess the character-defining features of Tong-il-chon and their associated values, and second, a sociopolitical analysis to understand the establishment of Tong-il-chon not only within the political, social, and economic background of South Korea in 1970s, but also in comparison with other countries' cases which applied similar strategic development methods to certain villagizations. After Tong-il-chon's values are defined, the current context around Tong-il-chon will be discussed to identify main imminent issues that could threaten the integrity of Tong-il-chon. Lastly, effective management plans and recommendations will be proposed based on the assessed values of Tong-il-chon, which will be suggesting an overarching conceptual foundation through more specific, elaborated objectives and methodologies so that they can help the village evolve into living heritage with a successful balance between preservation and development.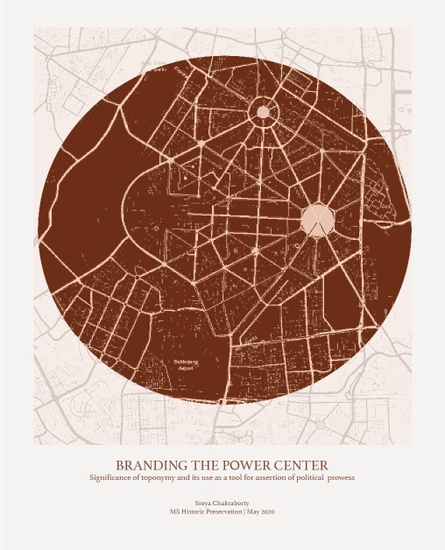 SREYA CHAKRABORTY
Branding the Power Centre: Significance of toponymy and its use as a tool for assertion of political prowess

Advisor: Will Raynolds
Readers: Anupama Rao, Chris Neville

The urban environment is made up of separate elements that spatialize social, cultural, economic, historic information about the geography and the people interacting with it. Their recognition through the lens of history and historic knowledge is heritage. Toponymy, or the science of naming places, is one of those spatial elements, and street names are a subset of place-names. They are essential inheritances for a state and its people as the state transitions through social, political, and cultural epochs, as they present a capsule to look back at state values and mechanisms. However, as with every heritage element, there is a quotient of temporality to them. Since street names are cultural productions that represent the most relevant and useful cultural information about the state at the time of naming, as conditions of the state change, they are often reconfigured.

India, having undergone various rules and regimes, has a long history of assigning and reassigning names to places not only as a way of commemorating important events, personalities and revolutionaries but also for reforming spatial narratives rife with political intents. However, in recent years, specifically under the regime of the current government, there has been a proliferation of place-name changes in various scales of urban spaces: cities, districts, streets, buildings, transit infrastructures. These reconfigurations have attracted vehement opposition by the media. However, recent media depictions have failed to take into account the broader significance of name changes (toponymy) and historical context of these changes.

This thesis is an inquiry into the heritage value of street names, the naming mechanism, and the actors behind the processes, how the processes intersect with India's political and historical contexts in an erstwhile colonial capital city of New Delhi in India, which also became the nucleus of the operation of Indian governments within the larger city of Delhi. Through a review of when and how street renaming happens in the area, identifying existing policies in place that facilitate the change, or are subverted to make it happen, the thesis aims to understand the mechanism itself.

The thesis presents the information through the creation of layered historical maps to trace name changes through time, interviews with historians and other relevant stakeholders, and user interviews to better understand the current context of street name changes. The aim is to provide a timely reminder of the importance of street names and naming mechanisms as a heritage production process and help contextualize it within the larger considerations and motivations that were at play.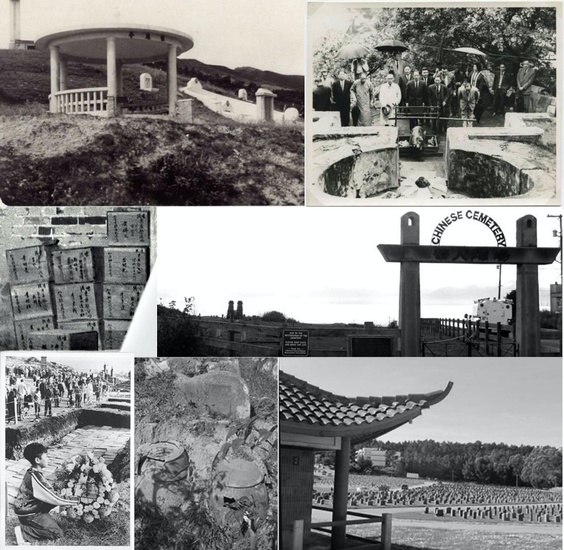 YASONG ZHOU
Burial of the Early Generation of Chinese Laborers: Adaptation of Chinese Funerary Traditions in the US in the Late 19th and Mid 20th Centuries

Advisor: Christopher P. Neville
Readers: Amy H Lelyveld, Shuyi Yin

Death is not only an immutable law of nature, but also a way for human beings to express their unique culture. The traditional Chinese customs represented by burial rites were carried to different countries and regions in the process of Chinese immigration, and their core cultural connotation was inherited by overseas Chinese for generations. But at the same time, the multi-cultural background of the Chinese people also makes these traditional customs in the local changes and development, showing their uniqueness in different ways. Ultimately, Chinese burial culture is a concrete manifestation of cultural identity and identity, as well as a phenomenon of self-protection under huge cultural and social barriers.

The overall goal of this thesis is to document the burial culture of Chinese laborers in North America in the middle and late 19th century and to explore the heritage value of the burial network. On this basis, the author placed the sites (San Francisco, Victoria, Newfoundland, New York, and Boston) in the background of the global burial network, and analyzes the identity of Chinese laborers and the factors influencing the development of the burial network in combination with the local context. Furthermore, the author also explores the influence of local context on the development of the burial network and argues about the value of the burial network as a human heritage.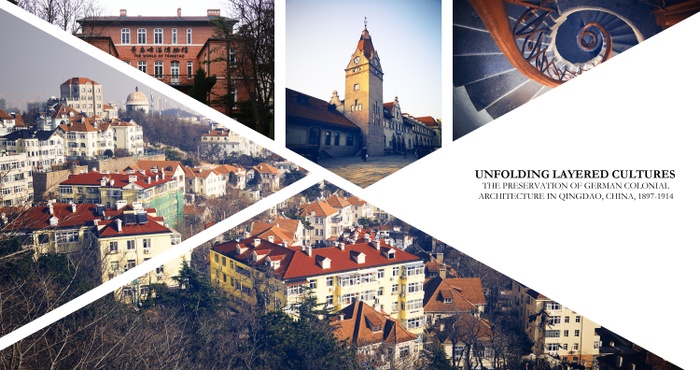 YOU WU
Unfolding Layered Cultures: Preservation of German Colonial Architecture in Qingdao, China, 1897-1914

Advisor: Belmont Freeman
Readers: Shuyi Yin, Michael Muecke (Mikesch)

Colonial architecture, as a concrete representation of both the local culture and invading culture, has its unique values to both colonists and the colonized. Along with the colonized history in China, which started from around 1553, Qingdao is a typical colony that can reflect well the combination and conflicts between local culture and invading culture. In addition, as a colony owned by two different colonial powers successively, it was influenced by multiple cultures, which is also reflected in colonial architecture there. This thesis seeks to unfold the layered culture of German colonial architecture built from 1897 to 1914 to examine changes under different governments' control. By analyzing changes in German colonial architecture, it is possible to recognize people's attitudes toward colonial architecture and how the government at the time influenced people's thoughts when facing the same thing. In this sense, it can help to determine how to evaluate different historical layers and define significance for the preservation of colonial architecture in China.

Starting from the Ming dynasty (1369-1644), many parts of China became colonies of Western countries. By 1897, Germany had become one of the significant competitive nations of the worldwide industrial revolution. Unlike Britain or France, however, Germany was a latecomer to establishing a stronghold in East Asia. After compelling the Jiaozhou Bay concession from the Qing Dynasty, imperial Germany transformed Qingdao, a former fishing village, into a relatively big city with seaport and military facilities. Germany planned the city for long-term occupation; thus, infrastructure and public buildings were designed based on architectural styles and technologies of the time. However, the Germans stayed in Qingdao for just seventeen years, being displaced by the Japanese after 1914. From 1891 to 1949, Qingdao had in total experienced seven significant historical periods, which are the Qing dynasty, Germany, the First time of Japanese rule, Beiyang, the Nanjing Nationalist, the Second time of Japanese rule, and the Nationalist.

Overall, the development of Qingdao reflects different characteristics under each different government's control. By unfolding the layered cultures in German colonial architecture in Qingdao one can help define preservation and renovation of colonial architecture in China in the future.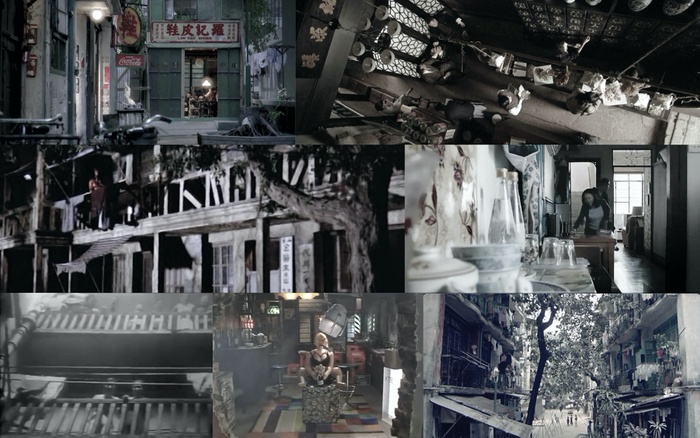 YU SONG

The influence of local film on the preservation of Hong Kong Tong lau from 1950 to the present

Advisor: Francoise Bollack
Readers: Amy H. Lelyveld Prudon

As a representative of Hong Kong vernacular residential building, Tong lau has played a significant role in Hong Kong's architectural history. Thus, the buildings' preservation is also crucial. However, due to various factors, the preservation work has encountered many obstacles and difficulties.

The thesis hopes to explore the influence of local Cantonese film on the preservation of Hong Kong Tong lau from 1950 to the present. As one of Hong Kong's most crucial entertainment industries, native Cantonese films have a profound impact on shaping Hong Kong's identity and creating a collective memory of the local community. Thus, through film study combined with research on Tong lau's preservation history, the thesis intends to explore how local film managed to impact Tong lau's preservation through the continuous enhancement and shaping of collective memories to strengthen identity, and to enrich the narrative of Tong lau's significance and value. Moreover, by studying the association between Tong lau's historical preservation events and local Cantonese film, the thesis aims to provide support for Tong lau's preservation.