Actively engaged in practice and globally minded, the Urban Planning curriculum connects the study of the urban built environment with a grounded analysis of socioeconomic and political conditions. Paying particular attention to the role of urban analytics and the quest for social justice, we explore the tensions between market forces, civil society, and the goals of planning. Our students collaborate and learn to evaluate, shape, and lead efforts to develop and enhance cities and communities in ways that promote healthy, resilient, and sustainable living. By studying the impact of global linked processes (e.g. immigration and climate change) as well as local conditions on cities and communities, students also think creatively about approaches to improve processes and outcomes of planning.
The following theses and studio projects, completed this academic year, show how MSUP students prepare to become visionary thinkers and change-makers. Faced with uncertainties that COVID-19 brings, they are embracing the professional challenges and responsibilities with sensitivity and courage. How can we work towards addressing the structural failures that add to the vulnerability of disadvantaged communities and people in cities? How can we (re)design public spaces for engagement and interaction under the constraints of social distancing? These are examples of the pressing questions they have taken on in pivoting international studios to address local needs through comparative lenses.

Reimagining Informality thru Public Space in Buenos Aires and Informal Vending in NYC
This studio project began as a study of informality and public space in Barrio 31 in Buenos Aires. Halfway through the semester, due to travel restrictions related to COVID-19, the studio expanded its scope to include the study of informal street vending in Jackson Heights and Corona in Queens.
TA: Tara Heidger
Students: Myles Aguadelo, Natalie Baldacci, Xiyu Chen, Colin Hancock, Mariana Hinojosa Ronquillo, Elaine Hsieh, Soyeon Kim, Qingyuan (Lily) Li, Juan Moreno, Madeline Pena, Yuan Qin, Vicky Zhou
Buenos Aires
In an effort to integrate and formalize Barrio 31, the government of Buenos Aires engaged in a comprehensive formalization process in 2017. However, Barrio 31 remains an informal, independent, and self-governing neighborhood that is easily distinguishable from the rest of Buenos Aires. One of the most prevalent differences is the lack of green space. While the city of Buenos Aires has many green spaces, Barrio 31 does not. As such, Barrio 31 has struggled to attain unity amongst its residents, which prevents its integration as a true neighborhood in Buenos Aires. This proposal aims to build a unified community and increase green space, thus allowing Barrio 31 to become an integral neighborhood in Buenos Aires. The VerdeB31 app will be the tool for which this happens: this app will better inform, organize, and mobilize residents to come together and build a greener, healthier community—together.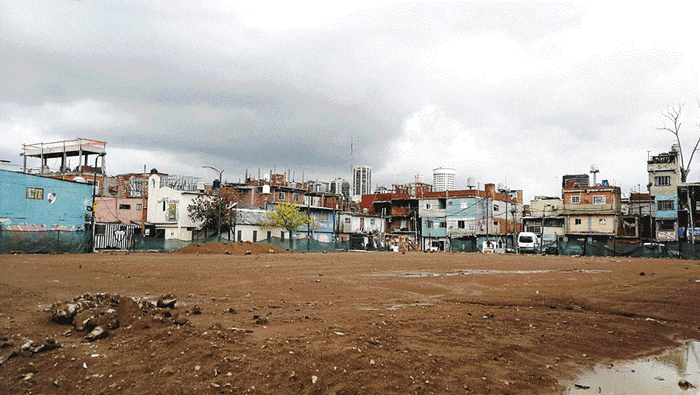 Queens
The street vendors of Queens have played a key role in expanding the borough's reputation as a culinary destination. Despite this, vendors find themselves in a precarious position. Street vending in New York City comes with an array of restrictions in terms of permits, placement, and economic uncertainty. Vendors are far too often forced to evade certain rules to keep their business operating. Our project aimed to explore the different restrictions that hinder the operation of street vendors and bridge the gap between these regulations and the reality of selling on the street. To accomplish this, we created a tool for advocates and policymakers to enhance street vending and to reimagine the space where vending takes place. This tool, in the form of an online platform, will contain spatial analysis that illustrates the current limitations for vending in public space; and provides a toolkit to intervene in spaces of opportunity and repurpose them to foster social interaction and economic activity.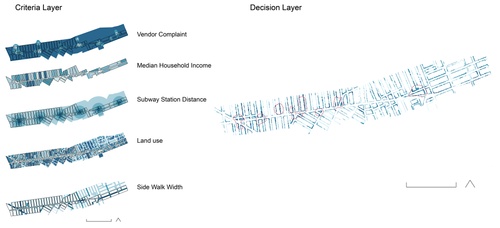 Street Vendors: Criteria Decision Maps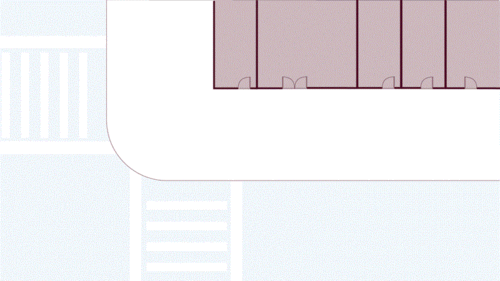 Street Vendor Policy Measurements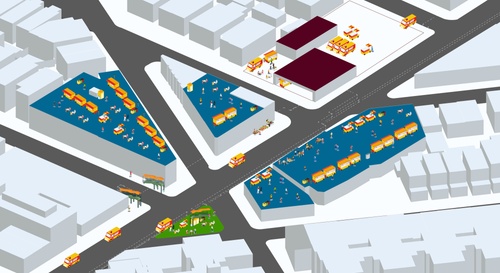 Innovation Ideas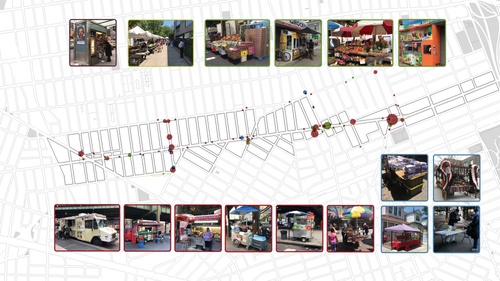 Mapping Street Vendors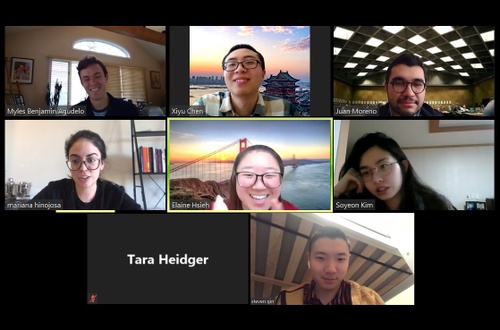 Waterfront Development in Long Island City
New York's Long Island City today is in the course of a complex transition, evolving from a main industrial district of New York into a unique mix of manufacturing businesses, artist communities, the largest public housing in the U.S., and recent high-density residential developments. LIC Waterfront has a particularly more complex character shaped by its location, land ownership, and strong community voices. Due to this nature, several development attempts of the site came to nothing including Amazon HQ2. This study seeks to provide the client, DCP Queens Office, and the community a vision for LIC Waterfront that can untangle three pressing issues: (1) economic development, (2) public realm, and (3) resilience. Through direct and indirect community engagement processes and examination of previous plans, the proposal aims to balance public value as well as private development rights. Recommended interventions that follow are expected to create a synergistic effect as a whole and bring people back to the Waterfront.
Client: Queens Office of NYC Department of City Planning
TA: Rebecca Noble
Students: Ryan Eustace, Jinkil Lee, Qi Lin, Shinichi Yoshihara, Haochen Zhang, Haoran (Rachel) Zhang
Reimagining Porta Genova Station Area in Milan / Meatpacking BID for COVID Recovery
The decommissioning of Milan's Porta Genova Station and its accompanying railyard presents an opportunity to reclaim valuable land into the heart of two of the city's most famous districts. Tortona, a former industrial area now known for fashion & design, and Navigli, characterized by its picturesque canal waterfront, have accepted and embraced the separation brought by the railyard—how, therefore, can these identities be protected? This proposal seeks to unify urban fragments by concentrating development and activity along a "green corridor", creating a soft but significant buffer. Station infrastructure is set to become a festival marketplace and the iconic waterfront will be extended. Further, this plan includes a Social Housing development for university students and young adults in Tortona, a population that is set to grow. This project aims to achieve many of the city's goals such as (1) increasing the amount of green space, (2) reducing neighborhood fragmentation, and (3) promoting inclusivity, all while protecting its rich industrial heritage.
Clients: Sistemi Urbani, Meatpacking Business Improvement District
TA: Emily Junker
Students: Sebastian Andersson, Mengqi Cao, Lanier Hagerty, Sanjukta Hazarika, Hui Lu, Jason Mencher, Nicholas Perry, Zeineb Sellami, Jiuyu Wang, Hanzhang Yang, Zixuan Zha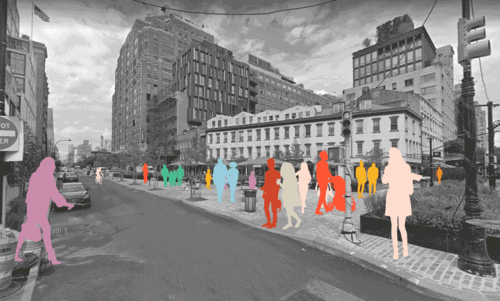 NYC Grey to Green Energy Transition
As the coming energy transition begins to accelerate, how can we reimagine the energy infrastructure in a way that serves environmental justice communities? The Climate Leadership and Community Protection Act not only mandates reducing carbon emissions and transitioning to renewable energy, but also ensures benefits and investments to communities that have been suffering from poor socioeconomic conditions and environmental pollution.
The Grey-to-Green Energy Transition studio is challenged to identify strategies and opportunities related to the eventual closure of peaker power plants in New York City, specifically balancing community priorities with future energy-related demands. In doing so, the studio analyzed 311 complaints to understand community concerns, created an index to identify 'disadvantaged communities,' developed strategies for 'benefits of spending,' conducted feasibility studies on solar and batteries, and proposed repurposing scenarios demonstrating new ideas of energy infrastructure on 3 peaker power plant sites in Port Morris and Sunset Park.
Client: NYC Department of City Planning, Strategic Planning Division
TA: Gayatri Kawlra
Students: Justin Barton, Riley Burchell, HK Dunston, Yuning Feng, Yiyi Jiang, Jon Hong Kim, Geon Woo Lee, Hongsong Lee, Thiago Lee, Priska Marianne, Xifan Wang, Angel Yin
Caribbean Reconnections – A Sustainable Future for Puerto Rico
This joint Urban Planning and Architecture studio is part of a series focusing on the island of Vieques, Puerto Rico. The studio focuses specifically on the neighboring island of Culebra and the Main Island at the Municipality of Ceiba—all three sites share problems related to transportation and general developmental issues. This studio continues to engage the study of infrastructure, building, and livelihood futures begun in Vieques while expanding the scope of architectural design to include planning, policy, and implementation issues. The core concerns of infrastructural development remain. An overriding concern of the studio is exploring the developmental advantages of infrastructural improvements in maritime-related infrastructure.
Clients: Municipality of Cuelbra, Mujeres de Islas, Roosevelt Roads Development Authority
TA: Gloria Serra Coch
Students: Regina Alcazar, Hayes Buchanan, Tihana Bulut, Melissa Chervin, Steven Corsello, Nelson De Jesus Ubri, Camille Esquivel, Kassandra Lee, Caili Li, Ziwei (Aria) Ling, Shih-yu Liu, Sarah Zamler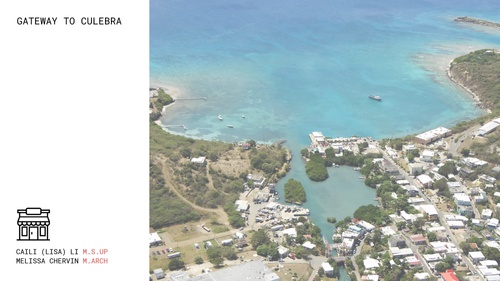 Gateway to Culebra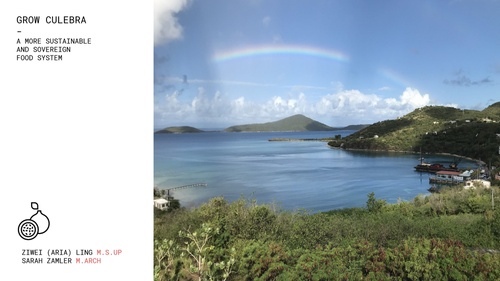 Grow Culebra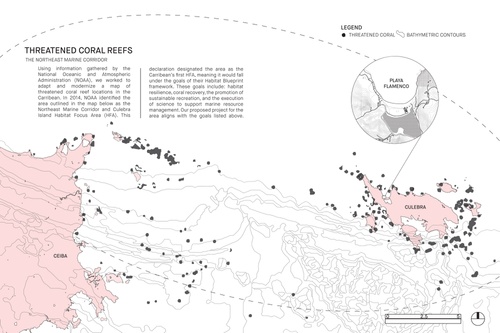 Threatened Coral Reefs
CONOR MCKAY ALLERTON
Shared Land in High Demand: Community Land Trusts in New York City

Advisor: Ryan Devlin

New York City continues to face a serious crisis in housing affordability. While the city implements a plethora of top-down planning strategies to address this crisis, some are looking to more experimental, bottom-up approaches to not only affordable housing, but larger questions of community control, empowerment, and property stewardship. As the city's stock of public land dwindles compared to decades ago, each parcel becomes increasingly important in the fight against the unrelenting real estate industry. This paper addresses these ongoing frictions through the lens of the Community Land Trust model, a form of shared-equity ownership that seeks to decommodify property and empower local residents. Consultation of relevant literature, background of the model in the United States, local contextual research on shared equity in New York, and interviews with those most embedded in the CLT movement all inform a set of final findings and recommendations for how the city government might best approach the grassroots energy around the CLT model, and perhaps more importantly, how to not co-opt the movement.
DARE BRAWLEY
Tracing Speculation: Real Estate Geographies in Pre- and Post-Crisis Philadelphia

Advisor: Malo Hutson

This project investigates forms of investment in residential property that began to emerge in the lead up to the 2008 financial crisis, which have since morphed and firmly taken hold. Focused on Philadelphia, PA, the analysis traces the new geographies of real estate purchases made specifically by investors who do not intend to live in the homes they are buying. The project uses a mixed methods approach to uncover how houses purchased as investment vehicles between 2000-2018 have been concentrated spatially, then compares these patterns with the geography of houses that have been purchased as homes. The research shows that investors have consistently focused their efforts on Philadelphia neighborhoods with a higher proportion of residents of color and lower incomes. Over the nineteen-year span of this study it is clear that investor activity not only plays a large role in the housing bubble in Philadelphia, but is also continuing to grow as a percentage of overall purchases, and is expanding into new areas of the city. Principally, the project reveals that the geographies of purchases by investors and owner-occupants are largely distinct –investor ownership is fueling a separate housing geography and is not merely a part of the overall housing market. To take up these complexities I draw together literature on the political economic implications of financialization in housing with research on neighborhood-level impacts of house 'flipping' as well as the new single-family rental (SFR) asset class. Through this research, the project considers the implications of these patterns in a context where, facing years of disinvestment, Philadelphia community development organizations and city government have largely been eager for the influx of capital brought through speculative investment in housing even as they simultaneously deal with related waves of displacement and evictions.
ALANNA BROWDY
Creating a 'Cultural Innovation District' at Lincoln Center

Advisor: Ryan T. Devlin

Lincoln Center and its surrounding area, including the Special Lincoln Square District, Special Clinton District, and Theater Subdistrict, hold one-third of all New York City performing arts spaces, making it the densest collection of performing arts spaces in the world. Despite this high concentration, the area lacks supporting spaces integral to the success of arts and culture activities. Recognizing this need, the Lincoln Center Development Project (LCDP) is producing a technical report on the benefits and feasibility of creating the Amsterdam Corridor Cultural Innovation District (ACCID).
The ACCID will connect the high concentration of existing performing arts spaces with its surrounding neighborhoods. It will produce new support spaces to match this high concentration, as well as incorporate programming into existing spaces that creates value for the community. The primary goal is to provide institutional support for the neighborhood's local performing and fine arts communities through development and stewardship of physical and social infrastructure. Beyond fostering the arts, the ACCID is also intended to drive innovation.
How can Lincoln Center create new and expand existing cultural spaces in order to activate innovation and arts production?
It is recommended that LCDP encourage production of rehearsal studios, which are essential to the creative process and can be designed to accommodate a variety of disciplines. It is also recommended that LCDP factor affordability and a variety of open hours into operations, develop a comprehensive plan, create a Liaison position for the district, curate programming under three categories (education, collaboration, and incubation), develop a community engagement strategy, and position the ACCID as a force against artist displacement and inequity.
The ACCID will have the potential to make an impact beyond its boundaries and promote the performing and fine arts across all of New York City. The prosperity of this sector is beneficial to the NYC arts community as a whole. Moreover, by establishing the ACCID, Lincoln Center will not just develop spaces, but create long-lasting connections with local organizations and enable the proximity necessary for artists to collaborate and create.
MARIYA MARTHA CHEKMAROVA
Thesis Title

Advisor: Anthony Vanky

NYC311 is a customer relationship management tool that connects citizens to local government agencies whereby citizens access information and submit requests. Government agencies perceive NYC311 as primarily a request management platform that supports service delivery. Though the tool generates data that expresses community needs, it does not necessarily influence strategic agency initiatives. The extent to which this dataset represents community needs as compared to Community Board Budget Requests shows that while there are limitations to representation, 311 is filling a communication gap by providing a low barrier of interaction between citizens and their government. This paper concludes that despite government agencies' perception of NYC311 and the deeper representational challenge communities face, 311 has the potential to increase civic engagement through a reconceptualization and redesign of the tool.
JACEY CHON
Planning for the Next Generation: Composting in New York City

Advisor: Ryan Devlin

Growing significance of environmentalism in today's culture has given way to the environment-conscious young generation rising up with youth-led movements and initiatives. While the realization of practical actions may vary from one urban area to another, New York City, with its 2030 Zero Waste goal, can capitalize on this momentum to widely execute the program's key initiative: composting. To that end, this research seeks to identify the factors that New York City's residents face when attempting to compost and explores possible interventions the City can implement to bolster community engagement. With the young generation's demonstrated responsibility and sensitivity to trending environmental issues, the research aims particularly at those aged 20-39 to be effective conduits of the social movement. Online survey responses were collected from those identified as the target group via popular social network platforms. The quantitative data was further complemented by in-person interviews of the City residents, volunteers and staff at relevant organizations. The findings suggest that the low participation rate in composting programs can be overcome by addressing the following prominent barriers: lack of access to composting sites, limited knowledge and interest on the topic, and perceived inconveniences. Starting with the City's young people, the concept of "nudging" can be employed to influence their proactive behavior and allow their participation in the composting program to be the source of inspiration to other age groups in realizing the 2030 Zero Waste goal.
REBECCA COOK
Protest & Public Space:Challenging Notions of Sociospatial Distance in New York City

Advisor: Anthony Vanky

Cities have experienced a resurgence in social movements and public space protests in recent years. Contemporary literature in the fields of sociology and communication provides extensive exploration of the use of online public spaces, often in the form of social media engagement, in support of civic action and social movements. While it has been acknowledged that the fields of architecture and urban design play a fundamental role in the "cultural shaping of spatial forms" that support the offline efforts of these movements, a gap in understanding between the relationship of online and offline public spaces exists (Castells, 2012). Aimed towards that disconnect, this research explores the nature of social movement in public space today - focusing on the use of Manhattan's Foley Square by three distinct social movements in January 2020. This thesis, then, proposes an experimental methodology for exploring this gap in literature. Findings suggest there are palpable relationships between a movement's online social network and its choreography of tangible civic action in the form of public space protest. Discrete patterns exist across movements in the way themes of space, narrative, participating actors and place are constructed. As such, this study provides planners and designers insight on the power and potential of the built environment to act as an integral communicative device towards civic action and social progress in contemporary urban environments.
GRACE DICKINSON, DUAL MPH
Mapping Maternal Mortality: Resilient Journeys in the Face of Disparities

Advisor: Malo Hutson

This capstone project, entitled "Mapping Maternal Mortality in NYC: Resilient Journeys in the Face of Disparities" was conducted on behalf of Lynn Freedman and Sang Hee Won at the Averting Maternal Death and Disability Lab (AMDD) at the Columbia Mailman School of Public Health. Their team conducted a two-and-a-half-year study to better understand the experiences of minority women in New York City during pregnancy and child birth. The AMDD team conducted qualitative research, consisting of interviews and focus groups, with pregnant and post-partum women, their partners, and their providers. Their conversations revealed that on both ends broken trust and, specifically for the women, a lack of social support. For my urban planning capstone project, I used GIS tools to try to better understand the role that the built environment plays in trust and support, in order to better inform policy that could help to rebuild trust and support in communities. With the understanding that most low-income, or generally low-resourced women seek care within their communities, and knowing the role that health insurance, poverty, community understanding, and race play in the choice to seek care and care received, I identified high need neighborhoods and communities within New York City. Upon trying to map the care journeys these women take, our team discovered there was no existing spatial data publicly or privately available locating hospitals, community health centers, or any prenatal care facilities within their communities. I collected information from a wide range of sources to build out such a map, which the New York City Department of Health and Mental Hygiene has already requested access to. These maps, in addition to proposed metrics of spatially measuring social capital, have been useful to AMDD as they plan to embark on targeted interventions and partnerships within the identified high need communities.
MAYA EPHREM
"ADDIS ABABA bete (home)": CONTESTING SOCIO-SPATIAL EXCLUSION AND/IN SUBURBAN FUTURES

Advisor: Weiping Wu
Reader: Ryan Devlin

Addis Ababa is undergoing rapid urban transformation—and at the expense of local communities who are victim to displacement. Since the early 2000s, Ethiopia has pursued a pro-modernist agenda to reimagine the city, while still grappling with structural legacies of exclusion, like social stratification and ethnic tension. Given institutional weaknesses, as evidenced by the lack of urban housing and related services, arrangements between the government and private entities have not only dominated the development process but have dictated spatial and infrastructural outcomes. This research will explore the development of Ayat, a peri-urban neighborhood, formally incorporated into Addis Ababa in 1989, a year after Ethiopia transitioned to ethnic federalism. As the product of a "governance arrangement" with a real estate company, Ayat serves as a compelling crucible of ethnopolitics in the built environment. Meant to serve as an extension of the capital, Ayat's suburban development is at odds with Addis' character of urban mixity—as its residents are largely diaspora or part of Ethiopia's emerging middle to high-income class. This thesis will challenge the governance arrangement that enabled its development and the threat it poses to the city writ-large, namely as emboldening practices of de-facto socio-spatial exclusion. In Ayat, the confluence of the desired city and the spatial constraints of urban growth, as argued in this work, detail a primacy on realizing a modernist urban fantasy typically found in the West and is by default, an incompatible future for Addis Ababa's residents. 
ALINE FAIWICHOW ESTEFAM
The fallacy of consensus: how conflicts can be essential to determine community participation

Advisor: Ryan Devlin

The purpose of the research is to contribute to an emerging body of critique of community participation in planning practice. The critiques in this research are grounded in the analysis of two situated planning practices in New York City. One of them followed the normative decision of the communicative planning, and the other followed the agonistic methodology. The research starts with background research of what aspects led to or helped shape the planning process in both cases. It follows an in-depth analysis of the negotiation and participation processes, outlining differences, and similarities. Several critiques were offered regarding power and the idea that communication can suspend power relations. First, it outlines the importance of previous conditions ñ political scenario and community power ñ to shape planning decisions. Second, it argues that power holders generally lead the negotiation in communicative planning. Third, it argues that communicative practice does not create spaces for the expression of conflictual ideas and end up excluding segments of the population. It concludes that conflicts are fundamental to an equity-driven planning practice and outlines several recommendations that planners or government agencies should follow to ensure meaningful community participation.
EMILIO FLAMENCO
Slamming shut that Golden Gate:  The role of New Media & the Unlikely Coalitions against Regional Planning   in the San Francisco Bay Area

Advisor: Moira O'Neill-Hutson

This paper assesses how opponents of regional planning efforts in the San Francisco Bay Area transcend political party affiliations and established coalitions through an examination of their organization strategies across digital platforms and traditional strategies. Contrary to widespread perception, Bay Area opponents to regional planning are not a monolithic, wealthy, suburban group of 'NIMBYs,' but instead span a broad spectrum that includes anti-gentrification and tenants' rights advocates, libertarians, environmentalists, Tea Party members, liberal progressives, anti-globalists, and more. With the adoption of the region's first comprehensive housing and transportation plan in 2013, Plan Bay Area, these groups have for the first time joined forces as unlikely allies to oppose the goals of regional planning; namely, transit-oriented development and proposed increases in housing supply. This paper explores these strange bedfellow coalitions — how and why they've banded together, and how they've overcome their many ideological differences to rally so effectively as united fronts against regional planning. It concludes with takeaways for practice —  how planners can understand these maligned groups, engage with them non-confrontationally in public fora, and find common ground to advance regional planning while alleviating their fears and addressing their grievances. 
KATE GALBO
San Francisco Sustainable Neighborhood Dashboard

Advisor: Moira O'Neill-Hutson

San Francisco's commitment to help reduce global warming by achieving a zero-emission city by 2050 requires multi-scaled action and collaboration between agencies. The City has many plans and policies in place to reduce greenhouse gas emissions across sectors. The San Francisco Planning Department is leading the development of the Sustainable Neighborhood Program, in collaboration with partner agencies, to synthesize the City's many goals, requirements, and targets, create synergies between, often siloed, topics, and maximize mutual efficiencies and outcomes.

The Sustainable Neighborhood Dashboard is a tool created to help demonstrate the potential for data to inform urban sustainability strategy development and prioritization at the community level. The purpose of the Dashboard is to assess and visualize key indicators to provide project sponsors, community stakeholders, and city staff with an understanding of baseline sustainability performance and to facilitate data-driven interventions. The indicators allow users to determine where the largest performance gaps and disparities are and where to focus sustainability-related efforts. This report documents research conducted to create an in-depth assessment of sustainability indicators used in the Dashboard, as well as recommendations for improved data collection and reporting.
YUAN GAO
Thermal Comfort Design in Public Outdoor Space: The Influence of Spatial Configuration and Implications in Urban Design

Advisor: Anthony Vanky

Outdoor public space is critical to urban living, and parks serve as valuable assets for all citizens. As there exist extensive research and design practices of urban public areas, the microclimate conditions are essential to thermal comfort at the local level. However, the data collection at this scale is missing, and the current planning paradigm is inadequate to evaluate and respond to local needs for public space quickly. The thesis, focusing on the research gap, adopts a simulation approach to study the influence of spatial configuration. The study first simulated the current design of Paley Park in New York City, combining holistic climate simulation software and digital modeling programs. The validity of the simulation model is completed by comparing the field measurement and simulated output. Further, the study proposes the design iterations of built environment features and construct comparisons between sets of design scenarios. Based on both graphic and numeric results, the research proves the significant roles of vegetation and optimal methods to maximize the thermal effect. Besides, the research also proposes a model-based modification method for space design. These findings provide a new, predictive framework for the local scale urban design, and help offer better guidelines for urban pocket park design.
SHREYA GHOSHAL, DUAL MSHP
Urban Juxtaposition: Balancing Heritage and Development through Transfer of Development Rights in New York City Special Districts

Advisors: Erica Avrami and Weiping Wu

As a policy tool functioning at the nexus between planning and preservation, Transfer of Development Rights (TDR) was created to alleviate some of the pressure placed on historic structures by market forces. Though not uncontested, planners, preservationists, and developers all believe the use of TDR in Special Districts to be successful for its ability to direct new development across a neighborhood while also protecting architecturally and culturally significant resources. But does this determination hold up to contemporary standards for equitable and sustainable development principles? A critical analysis of the history of planning policy exposes inherent biases that stand counter to contemporary planning goals; a similar investigation of the history of preservation policy reveals a prioritization of aesthetic concerns over wider social goals. Despite the layers of protection built into each Special District policy, and clear intentions to continue their use throughout NYC, they have never undergone a deeper level of analysis beyond economic valuation studies. This thesis bridges multiple disciplines by investigating the intent versus outcomes of TDR in Special Districts through a set of new metrics, employing an evaluative framework based on current planning and preservation discourse. This research consequently suggests that TDR does indeed reconcile preservation and planning aims in a single mechanism but has resulted in lasting socio-spatial consequences that were not anticipated as part of the original policy rationale. Special Districts prioritize real estate and economic development as well as aesthetic considerations over social inclusion and environmental concerns. Ultimately, the evaluation of two New York City case studies, the Theater Subdistrict and the Special West Chelsea District, informs a series of key findings and policy recommendations.
CHRISTINE GHOSSOUB
Associations of 'Eyes on the Street' with the Perception of Safety in New York City

Advisor: Anthony Vanky

New York City has seen major improvements in safety in the past few decades through enhanced policing strategies and camera coverage. However, public spaces and streets remain vulnerable. Recognizing the insufficiency of these strategies in reducing crime rate, this research sought to identify relationships between elements in the built environment with the 'perception of safety'. Prior studies have proved that environments that 'feel' safer to pedestrians would increase their well-being and street usage which would consequently weaken the likelihood of crime. The elements in the built environment chosen for this study were inspired by Jane Jacobs' "eyes on the street" theory stating that surveillance-generating elements on streets would reduce crime.

To answer the question of how 'eyes on the street' conditions may affect the perception of safety on streets in New York City, a street survey was conducted in two selected sites. The results revealed that more people on streets, more street activity and more mixed-use zoning increased the feeling of safety while elements of disorder (i.e. trash on sidewalks) reduced the feeling of street safety. These findings inspired a set of recommendations on ways to improve street design and planning for creating environments that appear to be safer for pedestrians. A key synthesis is that achieving 'eyes on the street' by altering specific urban elements could significantly impact the perception of safety that may lead to actual safety.
JAKE MAYER GOLVIN
What is the range of impacts federally mandated special economic zones impose on the socioeconomic conditions of low-income New Yorkers?

Advisor: Lance Freeman

This thesis explores the overall impact of New York City's Empowerment Zone initiative and concludes whether or not the policy promoted a significant rise in local employment. Moreover, it expands on data collected from the beginning of the program in 1993 to the present day alongside first-person interviews and obtains a conclusion which reflects on the planning implications set forth by the existing Federal Opportunity Zone program enacted under the 2017 Tax Cuts and Jobs Act. By reflecting on the history and motivations that served as a foundation for these programs existence, quantifying the complete extent at which it affected low-income residents of Central Harlem and the South Bronx, and placing its impact on contemporary policy, this thesis posits a balanced conclusion addressing the exact planning implications Special Economic Zones (SEZs) place on impoverished neighborhoods throughout New York City.
YUE HAN
How to Integrate Traditional Urban Planning Model and Big Data to Conduct Land-use Survey?—Take Shanghai City for Example

Advisor: Lance Freeman

With the advent of Information era, abundant of network terminal equipment occurs in our daily life, various Location service has created a large number of Big Data in our life. For the urban planning, large amounts of Big Data allow urban planners to be faster and easier to get acquainted with the city and present a new sight to study the current situation of the city. Under this situation, researches of using the big data to discern the function of the city land occurs. At present, the researches on this topic are more based on the point of interest and the data of check-in. The data type, the research techniques and the practical aspect of the correlational study still have potential advancement. This research absorbs some basic study techniques from previous studies, and creates some innovative methods on this basis, like adding some check-in data to act like a weight in the spatial analysis, taking machine language to improve the accuracy of the study result and so on. At last, achieving the goal to conduct land use survey in the downtown of the Shanghai City.
YINGWEN HE
Determinants of Housing Prices: Evidence from thirty-five cities in China

Advisor: Lance Freeman

By comparing housing prices for major cities since 1998 housing reform in China, the study finds enormous housing prices appreciation. The research aims to investigate the major determinants affecting housing prices in the 35 large cities in China from 2003 to 2018. Based on panel data set of 560 observations on four variables, the research compared three regression models, including regular ordinary least square, fixed-effects with least squares dummy variable, and random-effects. The main determinants are land price from the supply sector, and GDP per capita, disposable income per capita, population density from the demand sector. The regional difference is studied by adding regional dummy variables, including the eastern, western, northeast, and middle area in the model. The results have further policy recommendations regarding homeownership, fiscal revenue, and income support.
JOY HUANG
On Fractured Grounds: The Economic Viability of Planning as a Local Regulatory Tool for Hydraulic Fracturing

Advisor: Anthony Vanky

As states trend towards a legal hegemony on hydraulic fracturing regulations, municipalities are pushing back through the use of zoning codes and setbacks to curtail the proliferation of oil and gas wells. This study looks at the viability of zoning setbacks as a tool to foster better social and environmental outcomes for regions with grappling with the encroachment of fracking near public drinking water sources, and examines the shifts in regulatory frameworks that may or may not have led to unchecked geospatial distribution of unconventional wells. Moreover, this study uses econometric and shift share analysis to evaluate existing claims of income and employment benefits touted by proponents of increased fracking activity for decreased municipal oversight, focusing specifically on Texas and Pennsylvania. The results of the study point towards a lack of significant impact of an increase in well frequency and well density on median incomes and employment, and that setbacks up to 1 mile from groundwater sources would not significantly diminish extraction rights in Texas or Pennsylvania.
ZHENGZHE JIA
Evaluate The Impact Of Disruptions On New York City Subway System

Advisor: Lance Freeman

This research aims to evaluate the impact of disruptions on the New York City subway system to passengers in terms of time and financial loss. A network model will be built to represent the New York City subway system, and the passenger flow will be simulated using the shortest-path algorithm. This paper uses the network and the algorithm to check the delay caused by the removal of one or two subway stations, which represents the disruptions on the subway system. Specially, the disruption events that happen simultaneously are checked to determine whether and to what extent is greater than it when separate events happen. Delays will be calculated for each scenario, and an economic analysis will be performed to evaluate the financial loss caused to the community and the whole society. The research can be useful for evaluating the loss caused by the disruptions that happen in New York City, and contributing to the schedule change decision-making processes.
JU HWA JUNG
The comparative cross-sectional study on the affordable housing finance policy for low-income households: Lessons from NYC and Seoul

Advisor: Lance Freeman

Most of the cities around the globe have suffered from serious housing affordability problems, and the situation becomes worse as economic inequality and social disparity widen. Based on this concern, this paper compares the affordable housing policy of two representative global cities: New York City and Seoul. As the first comprehensive cross-sectional study on the two cities, this paper primarily encapsulates financial tools for the enhancement of housing affordability. Granted their contrasting market contexts and policy strategies, this paper tries to derive some important implications and policy recommendations for each city from the intensive comparisons of demographic and socioeconomic backgrounds, housing policy history, and contemporary representative housing support programs including LIHTC and public housing. As a comparative methodology, the author utilizes his self-developed policy comparison model, coined as the SMART model, whose five major components are Subject class, target Market, policy Approach, Regulation intensity, and policy Tools. This paper portrays that New York°Øs affordable housing finance policy primarily puts weight on indirect subsidy including tax incentives and public-private partnerships as a conduit while specifically targeting low-income households via mixed-income developments. Instead, Seoul more centers on the broader range of classes such as young people and newlyweds via direct support programs including public housing and subsidized loans for rent, mainly utilizing $163.3 billion National Housing & Urban Fund. In conclusion, this paper makes some policy suggestions for each city to fill the gap of housing inequality through the lens of urban planners, policymakers, and financial experts.
KEVIN KIM
Enhancing New York Cityís Online Service Capacity: Citizen-Centric Service Experience

Advisor: Anthony Vanky

New York City in the past decade has been expanding its e-government capacities to provide better and more accessible services to its citizens. Its effort has been widely recognized by multiple indexes and rankings, allowing New York City to become one of the top cities with e-government performance. However, citizensí perception of the cityís online service contradicts the popular belief. The user satisfaction rate based on resident feedback survey states that only 64% of the users who use the cityís online service (nyc.gov) is satisfied with their experience. To validate the satisfaction rate of the feedback report, a new survey that measures user experience in accessibility, service availability, navigability, and security was conducted to assess the user experience satisfaction. The result of the new survey confirms the sub-par satisfaction level of residents of New York. New York Cityís effort in developing better online services needs to put more emphasis on enhancing user experiences to ensure citizens can harness digital initiatives implemented by the city.
RIASSAH KOUAME
Build Operate Transfer: A Model for Maintaining Abidjan's Markets as Places of Urban Vitality

Advisor: Lance Freeman

In rapidly urbanizing African cities such as Abidjan, bustling markets like the Adjame market thrive on social density revealing their characteristic as places of urban vitality. In order for markets to maintain longevity over time, market management strategies must be efficient. When managed solely by the Adjame municipality, markets lack the means in terms of sustainability and economic productivity to efficiently function as places of urban vitality thus curtailing their longevity and prosperity. In cases such as the Forum des marchés submarket within the Adjame market, the Build Operate Transfer market structure provides in practice opportunities for market efficiency as private entrepreneurs have the funds to curb pollution by improving market environmental conditions as well as the ability to decrease losses in the tax collection process which hinder commercial transactions from fully benefiting the municipality in terms of economic productivity. Through short-term participant observation, comparative market management structure studies, and structured open-ended interviews, the research endeavour reveals the utility of public-private partnerships in advancing market efficiency as a means to support urban vitality in markets in Abidjan presenting a model for cities across West Africa as well as insights on markets for cities around the world.
RICHARD (RI) LE
"Things that quicken the heart": analyzing the affective footprint of urban ambient media

Advisor: Anthony Vanky

Digital media is increasingly pervasive in urban space, with urban screens becoming commonplace features of the built environment. While the world's tech companies have sought after the measuring and leverage of affect at scale, the field of urban planning has hardly considered the various impacts of these public screens—especially their affective qualities. Additionally, there is an absence of methodologies, theoretical frameworks, and applications that define and measure affective qualities in the context of urban planning. This study evaluates the feasibility of novel methods for urban planning research, contrasting the pervasive and ubiquitous computing of big tech with the ethos of the low-cost, do-it-yourself movement sometimes associated with "maker movements" and "citizen science." This was accomplished through a human experiment that used low-cost, self-assembled biosensor equipment in an attempt to measure the stress response of ambient screens in a controlled setting for 5 human subjects.
YINING LEI
The Impact of Open Spaces on Residential Property Values in New York City

Advisor: Lance Freeman

The study aims to explore the casual relationship between the open space and the value of its neighboring residential property in New York City. By using hedonic pricing models, the study specifically focuses on analyzing the impact of the open space's size, type, and proximity on residential property values. Results show that open spaces do have a statistically significant impact on the values of residential properties and that different sizes and distances to the residential property have differing despite small impacts. The type of the open space, together with the major age group in the neighborhood, has a collaborative impact on home value changes.
LINGYU (SIMON) LI
Technologies and Urban Traffic - How New Technologies Impact a Conventional Intersection

Advisor: Anthony Vanky

Urban population swelling and the expansion of people's need for transportation make traffic congestions an important urban deficiency faced by cities over the globe. Fortunately, emerging information technologies grant us many possible ways to improve the situation. This research built intersection traffic models in PTV Vissim platform to test the performance of Fluctuated Traffic Light technology, Vehicle to Infrastructure (V2I) technology, and Vehicle to Vehicle (V2V) technology under both peak and bottom volumes. The results indicate that these emerging technologies have the potential to boost traffic performance. V2I method functions the best under higher traffic volumes, while V2V tested to be the best under lower traffic volumes. Take a step back, from urban planning perspective, these technologies are still in their early stages and seems far from reality, however, planners should be prepared for the challenges it may pose. 
LORRAINE LIAO
Assessing the Publicness of Pedestrian Plazas Built Under the 2007 NYC Plaza Program

Advisor: Anthony Vanky

The purpose of this thesis is to assess the ìpublicnessî of pedestrian plazas under its development guidelines from the NYC Plaza Programs (NYC Office of the Mayor, 2007)†through a comparative study of private and public space. Drawing from existing models of publicness, the paper proposed a hybrid model to measure publicness and then investigated how ìpublicî the pedestrian plazas built under the NYC Plaza Programs are using a mix methods approach of geospatial data and literature review. In the process, it simultaneously challenged underlying definitions of ìpublicnessî and the contentions around privatization in the urban environment. The study suggests that the assessment of publicness for the NYC Plaza Programs demands a context-specific model to the program where metrics are calibrated beyond a simple hybrid of existing models. Ultimately, it is recommended that future studies for measuring publicness should include on the ground observations and fieldwork to account for the individuals who are arguably the true owners of a public space.
XINYU LIU
Stakeholder Analysis of Community Planning in Shanghai: A Case Study of Caoyang New Village

Advisor: Weiping Wu and Kate Dunham

Community planning is a rather new concept in China that did not really arise until the beginning of the 2010s. Shanghai, in recent years, launched its "Community Planner System" which institutionalized community planning and provides us with a channel to understand how this concept is localized and implemented in China. This study strengthens knowledge of community planning by selecting Caoyang New Village as a case study and conducting a stakeholder analysis of the planning process. Interviews are made with different stakeholders, which help identify the stakeholders involved, examine their roles and positions, and investigate their interactions and dynamics. The results show that although having an intention to practice community-based planning and engage multiple entities, the current approach to community planning in Shanghai is dominantly top-down with centralized power, and is short of communication and collaboration channels. This has led to failure to meet the community's most practical demands. Meanwhile, community planners are found at a central position in the stakeholder network, yet are not given the space to assist negotiation among entities. The author thus recommends power decentralization, collaboration establishment, and transformation of planners' role as guidance for the future.
ZHEYU LIU
Spatial Pattern of Street Vendors: A Case Study of Central Manhattan

Advisor: Lance Freeman

There is always a lack of quantitative analysis of the spatial distribution of informal economy due to very limited data available (Hays?Mitchell, 1994; Qadri, 2016). However, as a critical part of the informal economy, street vendors play a crucial role in the urban environment and citizens' daily lives. This research paper explores the spatial patterns of street vendors and the spatial relationship between formal retailers in the central part of Manhattan by using several geospatial statistic methods including Location Quotient, M-function and kernel density analysis. Spatial data of street vendors and formal retailers comes from two open sources: Google Street View and OpenStreetMap respectively.

We find that compared with formal retailers, informal street vendors show a higher level of agglomeration effect and that the intensity increases as the scale becomes smaller. There is no evidence showing that co-clustering effects exist between street vendors and formal retailers belonging to the same category, though it is not the case for industries such as fresh food groceries. Moreover, street vendors and formal stores display significant differences in their spatial patterns areawide.
SHIYU MA
Residential planning at neighborhood scale: global precedents and China's neighborhood life-circle planning

Advisor: Weiping Wu

Neighborhood life-circle planning is a relatively new term emerging in China since the 2010s. With visions to enhance walkability and provide adequate facilities that meet residents' daily demand, the implementation of neighborhood life-circle planning is still in its experimental phases. From a global perspective, similar concepts of planning residential areas in smaller units are not uncommon. This paper examines four residential neighborhood planning models: Neighborhood Unit Plan, planning of life zones in South Korea, Traditional Neighborhood Development, and China's neighborhood life-circle planning. Despite major differences in density and building typology, each planning model approaches to address certain perceived urban problems. Four case studies are selected to represent each model respectively. The comparison of the case studies mainly focuses on the physical built environment, including the patterns of the street network, building blocks, parks and open spaces, and community facilities. The analysis reveals how the planning models are applied in the built-up cases with highlighted gestures as well as tradeoffs during implementation. With more progress to encourage public input during the planning procedures, application of urban data to analyze the nuanced daily needs, and innovations in management mechanisms to encourage facility sharing, it is hoped that neighborhood life-circle planning in China could unleash more opportunities in the future.
SEAN NELSON, DUAL MIA
Testing Durability: Property Restitution and Refugee Return in Post Conflict Bosnia

Advisor: Ryan Devlin

In post-conflict settings, a network of actors with differing agendas converge to engender a process of reestablishing a viable state. After the Bosnian War, the imposition of the Dayton Peace Accords fostered a post-conflict procedure to ensure the return of refugees and internally displaced persons. The history of ethnic cleansing during the conflict created a unique set of spatial conditions that required a unique process for reconciliation. This thesis investigates the process of property restitution as a post-conflict reconciliation tool. Through understanding the complexities of the conditions produced by conflict and the landscape of post-conflict reconciliation, refugee return through property restitution can be better understood. The unique process and outcome of ethnic cleansing, the insistent international presence in post-conflict Bosnia, and the normative prescriptions for mass displacement amalgamate into a context that inspires the imposition of a property restitution regime. Through quantitative analyses using data concerning refugee return, property repossession claims, and sociodemographic change, I investigate the efficacy of the return-restitution nexus by municipalities in Bosnia. Regression analyses, population proportionality scores, and dissimilarity indices are the tools used to expose the impact of property restitution on refugee return, and the subsequent durability of these solutions for goals of reintegration. Through archival research and secondary sources, I aim to complement the results of the data analyses based on the lived-experiences of Bosnians in their post-conflict setting. The study concludes by applying the case of property restitution in Bosnia to the literature of post-conflict reconciliation, which is followed by recommendations on how to expand upon refugee return as a durable solution to displacement.
TOLA ONIYANGI, DUAL M.ARCH
Beyond the Blue Dot: A Storytelling Platform for Humanizing Urban Data

Advisor: Anthony Vanky

This capstone project proposes a novel approach to crafting narratives from existing place-based data. By combining elements of creative storytelling with traditional quantitative data, the project provides an avenue for poetism in the urban research process. To this end, the project is a web-based visualization tool for exploring the city at the human scale that stems from the idea that empathy can arise from "walking a mile in a person's shoes."

This project introduces empathy into urban research through a replicable methodology for generating location-based synthetic narratives from existing large-scale data, such as census data. It fills a void in understanding the people who inhabit a location by describing them through stories from their own perspectives. Its central hypothesis is that you can better understand a place by engaging with narratives of its inhabitants. With this platform, I am proposing a humanistic counterpoint to the current dominant paradigm of top-down modernist urban analysis and research that pervades through urban planning and design.
ANDREA PARTENIO
Retrofitting Resilience in Red Hook: A Roadmap for Neighborhood-Scale Integration of Green Infrastructure

Advisor: Ryan Devlin

As a piece of research being used to inform Resilient Red Hookís Comprehensive Resilient Vision Plan, this project builds a case for the wider implementation of green infrastructure solutions in Red Hook, Brooklyn for the purpose of improving stormwater management strategies to reduce flood risk. The document provides a snapshot of existing conditions that impact flooding within the neighborhood, including a summary of citywide policies and local zoning amendments, an overview of ongoing resilience projects and green infrastructure initiatives, as well as an analysis of Red Hookís built environment and its evolving land cover. In an effort to minimize the volume of stormwater runoff within the community and to ultimately reduce the risk of flood inundation, Resilient Red Hook is advocating for a greater focus on the incorporation of green infrastructure solutions within the Cityís wider approach to stormwater management.
ANISH PENDHARKAR
Exploring correlations between Groundwater level change and settlement planning in National Capital Territory of Delhi

Advisor: Weiping Wu

Groundwater in Delhi has been decreasing continuously over the past two decades, with many parts of the state designated as over-exploited or critically exploited. The depletion of groundwater is often attributed to the widespread and mostly illegal extraction through tube wells. Various case studies on water access in Delhi, point toward several factors which lead people to use tube wells, such as the absence of piped water supply, absence of private sources of water, inability to afford the high price of a legal connection and insecurity of tenure. These factors result in a different level of groundwater dependence in planned and unplanned settlements.

This is a novel exploratory study with two objectives: to develop a quantifiable relationship between these factors and change in groundwater levels and to observe if these relationships vary between planned and unplanned settlements. Such an empirical relationship would help understand primary reasons for groundwater depletion, and would help in nuanced estimation of groundwater draft, leading to realistic estimations of future demands and potential of groundwater development. Two kinds of regression analysis are used, one global (OLS) and another local (GWR). Results show that most relationships between these factors and groundwater change are as expected, with some exceptions. Though no significant difference was found in these relationships between planned and unplanned settlements. Future studies with better data availability can help establish conclusive empirical relationships and tools like GWR can help define spatial regimes for groundwater management in Delhi.
JAMES PIACENTINI, DUAL M.ARCH
Interactive Web Mapping as a Tool for Planning Advocacy: Modeling 21st Century Climate Migration in West Africa

Advisor: Ryan Devlin

The effects of human-induced climate change are already being felt across the world today, particularly by poorer nations and peoples. One of the most critical challenges of our time is understanding how climate change-related hazards will fundamentally affect where and how we can live on this planet, ultimately leading to global shifts in migration as climate migrants and refugees move within and across political and geographic borders. It is necessary to understand how shifts in our planetís climate will affect the hospitability of major areas of inhabited lands if we as a species are to truly engage the effects of climate change and protect those populations most vulnerable to harm. One of the major challenges to this understanding is the necessary complexity of climate and migration data, and the often-burdensome data-driven conclusions and analyses that provide barriers to those seeking to learn. Critical to enhancing the publicís understanding of these complex systems, and the plannerís ability to advocate for proper policy responses, is the transmission of rigorous climate and migration data into intuitive, visually engaging formats that encourage comprehension and interaction. This capstone project entails the development and deployment of an interactive web-based map platform that innovatively and intuitively showcases climate migration data for the West Africa region previously generated by researchers at Columbia University Earth Instituteís Center for International Earth Science Information Network (CIESIN) and The World Bank. This digital web-based project interactively visualizes the spatial relationships between critical climate shifts and the regional populations affected using geoJSON data files organized on the online mapping platform Mapbox, with robust functionality implemented with custom HTML, JavaScript, and CSS code.
HELEN PIERSON
Equity-Driven Outreach for Bicycle Planning and Beyond: Let's Bike Oakland as a Case Study

Advisor: Weiping Wu

As more cities begin to address the lack of bicycle infrastructure through citywide planning efforts, inequalities inherent to the community outreach process threaten to perpetuate inequality of access to biking in cities.  This research will explore the ways planners are using equity-focused public engagement to take on the unique challenges of creating an equitable and inclusive bicycle culture, and planning for infrastructure that accommodates the needs of all residents. The research is focused primarily on the public engagement strategies used in the City of Oakland's 2019 Let's Bike Oakland planning process. The primary case study is supported by research on the San Jose Bike Plan currently in development, and the Portland Pedestrian Plan released in 2019. This study uses a mainly qualitative research methodology through interviews with planners and consultants involved in the planning process, and analysis of relevant documentation. Through this research I identify powerful engagement and outreach strategies to create an equitable planning process, and suggest how those strategies can be applied to further.
GARRETT RIHA
Heat Vulnerability and Cooling Opportunities: Recommendations for the City of San Diego

Advisor: Moira O'Neill-Hutson

The expansion and densification of cities change the existing landscapes in ways that significantly alter ecosystems of all scales. Expansion of roads, parking lots, and built structures have increased impermeable surface areas, causing an increase in surface temperatures, a phenomena referred to as the urban heat island. The mechanics of the consequential relationship between urbanization and increased surface temperatures have been well documented in public health and environmental research. This report contributes to the present body of research by providing a framework through which thoughtful planning efforts to reduce the urban heat island (UHI) can be developed.

Specifically, this report unpacks the processes and results of a spatial analysis that identifies geographies within the City of San Diego that are in particular need of cooling efforts. The spatial analysis consists of heat exposure information derived from land surface temperature data from NASA's Landsat 8 satellite, and heat sensitivity information derived from population data from the United States Census Bureau. The spatial analysis is then leveraged in the creation of a decision map that compares census tracts within San Diego according to their relative heat vulnerability. This decision map is advanced further in order to evaluate the expected productivity of various cooling strategies in the target census tracts. In addition to a discussion of the findings and applications of the cooling strategies advocated, this report makes specific recommendations as to which strategies should be pursued in which geographies.

The majority of the most heat vulnerable census tracts are within the Mid-City and Southeastern neighborhoods of San Diego. 24 of these census tracts were identified as ones for which cooling efforts would be most impactful. These census tracts were determined through an evolution of the heat vulnerability decision map, which captured population size. Recommendations for each census tract were developed through a consideration of their individual attributes in relation to the most popular and proven cooling strategies. The analysis led to tailored recommendations of special efforts to expand existing tree canopies in 10 of the 24 target census tracts, to increase the amount of park space in 7 of the 24 census tracts, and to establish 4 new cooling centers within walking distance of the 5 of the 24 census tracts that currently lack remote cooling centers. Additional cooling tools, including cool roofs, green roofs, and cool pavement were also advocated for. Estimated impact, cost-benefit analysis, and strategies for implementation of all of the recommended cool techniques, including zoning incentives, grants, and demonstration projects, is discussed.
LUYUN SHAO
Social Production of Public Space: A Resettlement Neighborhood in Shaanxi, China

Advisor: Weiping Wu

Against the background of facilitating the urbanization process and driving economic growth after China°Øs reform in the 1980s, relocating farmers from long-established villages to new, concentrated urban neighborhoods has become a common practice. In this entirely new living environment, resettled residents°Ø perceptions and use of public spaces can be different from their urban counterparts. Taking the Yanming neighborhood in Shaanxi Province as a case, this study seeks to understand how resettled farmers are involved in the social production of the public spaces, manifested by their usage and transformation of space.

Through observations of public spaces, interviews with residents, planners, and neighborhood staff, as well as questionnaires gathered from residents, the types of planned public spaces, activities that take place, and residents°Ø spatial transformation practices are summarized. This study reveals a diversity of spontaneous deployment of public spaces by residents, categorized by the adaptation of existing space and the creation of new space. In this social production process, residents are both being disciplined by and resisting the imposed forms in the physical environment. There is a mismatch between the spatial form adapted by resettled residents and the prescribed space of the resettlement neighborhood, and this incompatibility produces a hybrid reality that indicates an incomplete urbanization process.
KIRTHANA SUDHAKAR
Food and Farming in Hawaii: A study of the obstacles to establishing resilient systems of local food production in Hawaii

Advisor: Moira O'Neill-Hutson
Reader: Kazuki Sakamoto

The purpose of this study is to identify existing obstacles to establishing resilient systems of food production in Hawaii, and to determine what some of the best practices in planning would be to address the same. The obstacles identified, have been bucketed widely into three categories, namely, obstacles related to land-use; policy related obstacles; and systemic issues.

The methodology employed was primarily in-depth semi-structured interviews, respondents were selected through the snowball technique. This was accompanied by an online survey to determine respondent's food habits and preferences, here, the respondents were selected again through the snowball technique. The third element was mapping of data using the mapping tool ArcGIS, to determine the degree to which land-use related obstacles relate to the research.

The literature indicated that the three most significant obstacles were the military land holdings, the Jones Act and large-scale crop monocultures. However, the findings indicate that invasive species and pests, the lack of labor and the high cost of land are the three most considerable obstacles to be tackled.
CAROLINE THOMPSON
Renewing Renewal: Community Involvement in Redevelopment After the Expiration of Urban Renewal Plans

Advisor: Moira O'Neill-Hutson

Communities impacted by urban renewal in the mid-twentieth century were largely unable to stop the changes brought to their neighborhoods. The plans that operationalized urban renewal remained in place for over 40 years, with significant legislative, legal, and financial effort required to make any alterations. In New York City, many of the urban renewal areas and their governing plans have since expired, ushering in market-driven development and neighborhood changes. This thesis uses a mixed-methods approach to analyze the subsequent built environment changes and to explore community involvement through case studies of redevelopment in the former Seward Park Extension Urban Renewal Area (SPEURA) and Two Bridges Urban Renewal Area (TBURA). While many lots remain unchanged since the urban renewal era, those that have changed reflect local development preferences or the results of major rezonings. The case studies reveal the wide variety of methods of community involvement in site redevelopment, with implications for future participation in redevelopment in the city.
CHONGYUAN WANG
Is Parking Essential to Transit-oriented Development?

Advisor: Moira O'Neill-Hutson
Reader: Anthony Vanky

Transit-oriented development (TOD) is accepted to be a promising urban planning strategy for long-term sustainability, equity, livability, and prosperity in cities. The debates over the balance and interaction continue whether TOD actually increases transit ridership and reduces vehicle miles traveled (VMT) in different sizes of spatial areas. Among those factors that affect the ridership, parking policy appears inconsistent with the underlying benefits of TOD. The thesis intends to examine whether the VMT reduces and transit ridership increases in TOD, and measure the impact of parking on VMT reduction and transit ridership enlargement. The San Francisco Bay Area is chosen as the study area. The thesis places emphasis on spatial analysis and statistical modeling for the methodology. The spatial analysis performed in the thesis utilizes a Geographic Information System (GIS) software to identify the location, scale and characteristics of TODs in study areas. Thus, what and where are the TODs can be addressed. For statistical modeling, the thesis chooses a multi-level model mixed with random and fixed effects to develop for the analysis. A census tract level and an individual trip level factors are combined as fixed effects to estimate simultaneously. Additionally, the thesis introduces a discussion on parking policies and innovative approaches in the context of the likely future trends.

Through a series of logically ordered questions and approaches, the thesis is aiming to shed new light on the research question that parking is essential to TOD and needs demand management. Developing TOD in suburban areas would help to increase transit ridership and reduce VMT on the regional scale. The results unveil the evidence that parking spaces and distance to transit stations of park-and-ride have a significant impact on transit usage and vehicle miles traveled in the Bay Area. The TOD areas are highly likely to have lower GHG emissions.
JADE WATKINS, DUAL MPH
Air Quality Monitoring Along the 14th Street Busway: Public Health Impacts in an Urban Planning Context

Advisor: Malo Hutson
Reader: Anthony Vanky

This capstone, in partnership with the Regional Plan Association, provides an opportunity to assess a methodological process used to measure air pollution in the built environment. In October 2019, NYC converted 14th Street into a "busway" by placing restrictions on the hours cars could drive along 14th Street between 3rd and 9th Avenues. Measured PM2.5 concentrations along 14th Street provided a glimpse into the potential reduction in air pollution attributable to vehicular traffic. Data from low-cost air monitors can be used as a tool for urban planners, elected officials, community advocates and policy makers to call for greater action. Dynamic sensing such as used in this capstone monitors the air quality along a path in order to replicate the hyper-local air quality environment a NYC resident might experience and subsequent inhalation exposure to particulate matter. Results from this study show differences in air quality between 14th Street and 23rd Street for PM2.5 concentrations, as well as AM versus PM concentration differences within each street. Box-and-whisker plots were used to examine the summary statistics and spread of data collected for each street. The entire quartile range for 14th Street was 2 µg/m3 while the third and fourth quartile ranges for 23rd Street spanned 5-9 µg/m3. Though the difference in acute exposure is relatively small, there is some potential for a difference in negative health outcomes between 14th Street and 23rd Street based on cumulative effects of a double to quadruple increase in PM2.5 exposure long-term. The results from this project are important because they show a measurable difference in PM2.5 concentrations between 14th Street and 23rd Street which may be associated with the recent urban planning intervention to convert 14th Street from 3rd Avenue to 9th Avenue into a busway. It is imperative more studies investigate the relationship between urban planning and public health to better understand how the built environment can be used as a tool for public health.
SAVANNAH WU
Enablers of Circular Economy at the Urban Scale: A Case Study of the Circular Fashion Ecosystem in New York City

Advisor: Malo Hutson

The fashion industry is one of the largest industrial sectors with the opportunity to transform from a linear take-make-waste approach, to a circular model that extends a fashion product's lifespan and minimizes nonrenewable resource consumption and landfilling of textiles. This paper examines New York City's circular fashion stakeholders and collaborations that seek novel ways of closing the loop of the fashion value chain. The stakeholders' current strategies and main challenges are analyzed after an overview of New York City's legacy of fashion manufacturing, in order to assess opportunities for collaborations on technological and policy interventions. While innovations such as digital product identification have great potential to increase feedback loops and transparency throughout the fashion product value chain, it is crucial to understand the context in which to apply these technologies and assess policy and regulatory incentives that need to be accompanied. This paper provides an explorative overview of the experiences in New York City to guide policy makers, organizations, and individuals interested in understanding the practices, challenges, and opportunities in applying circular economy principles to the fashion industry.
ZHENG XIN
Design Methods and Planning Strategies to Enhance Street Safety in New York City

Advisor: Weiping Wu

Streets in the cities is crucial element of human life. However, it is not safe enough that every year over 37,000 people die in road crashes in the US. The thesis aims to research as a planner, how could design methods and planning strategies enhance street safety in large cities. The research uses mixed methods that combine data analysis and site observation to explore how safety improvement present and influence the condition of streets. Several preliminary models have been conducted by data analysis. Site observation acts as supplementation of data analysis to merge theoretical model into practical world and observe the elements that could not been reveals by data. In the end, a framework has created for future improvement and development. Also, there are some limitations of the study that could be improved by future study.
RAWNAK N. ZAMAN
Around the World in 40 Blocks: Small business perspectives on the effects of diversity on the retail corridor in Jackson Heights, Queens

Advisor: Ryan Devlin

Jackson Heights' small businesses are as diverse as its residents, and with that comes unique priorities for the main retail corridor. This study compared the experiences of businesses that specialize in cultural items, specifically from South Asia, and more general neighborhood businesses. Both categories of businesses valued the role that reputation plays in attracting customers, built over years of operating in the neighborhood, community engagement, or co-ethnic ties. The spatial clustering of South Asian establishments has further enabled those businesses, which are also supported by transnational forces, to draw customers from the same foot traffic. These same advantages become a challenge as the corridor's customers change. These businesses were concerned about staying competitive, citing reduced traffic in recent years and generational changes. Meanwhile, most of the general businesses, especially those near the neighborhood's co-ops, were optimistic. Both categories of businesses expressed a desire for the corridor to modernize and acknowledged that different parts of the corridor seemed to operate independently, with little neighborhood-wide cohesion. Demographics and the built environment helped shaped the current ecosystems of these distinct segments of the corridor and can disrupt them, as well.
XUANTONG ZHANG
Comparison of affordable housing financing policies between China and the US

Advisor: Lance Freeman

China and the United States, as the two largest economies in the world, are facing the shortage of affordable housing, and the key to solving affordable housing is adequate funding. China and the United States differ greatly in the financing of affordable housing. This article talks about a comparative study of affordable housing financing policies between China and the United States, summarizes the differences between the two, explores the reasons for this difference, and compares the advantages and disadvantages of the policies of the two countries.
URBAN is a magazine created, edited, and published by students of Columbia University GSAPP's Urban Planning Program. The publication features writing, interviews, photo essays, and graphics work related to urban planning and city life. While most contributors are in the Urban Planning department, students from all disciplines are encouraged to submit work and have been featured in past issues.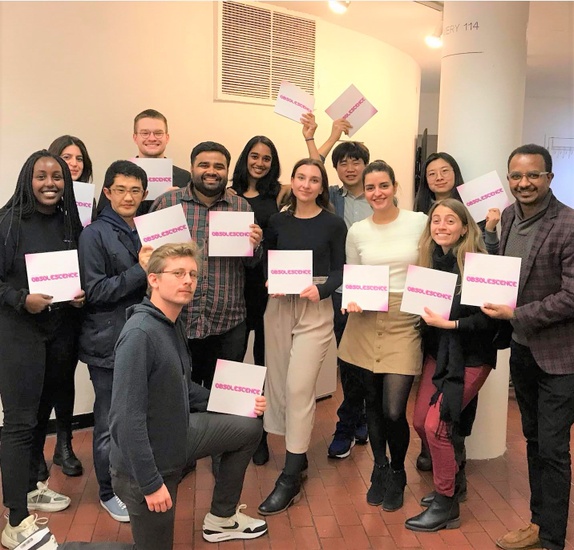 Urban China Network, Program Council, American Planning Association
When we started to conceptualize and coordinate the Urban Planning contribution to the 2019-2020 End of Year Show, we wondered how we could preserve our physical experiences in a digital space. In many ways, those questions echoed the uncertainty about our world that we have all experienced in the last few months.
However, as showcased in this digital presentation, we are makers of the space which we inhabit. No matter what disruptions arise in the built environment, urban planners must be quick to adapt to confront these challenges.
The work captured on this page is just a glimpse into the resilient worlds that we, as urbanists, strive to build.
Congratulations to all of our fellow classmates for finishing one of the most memorable academic years.


Lorraine Liao, Elaine Hsieh & Joy Huang
(MSUP '20)